Staying Fit as a New Parent
Take it from this Charlottean: It's not impossible.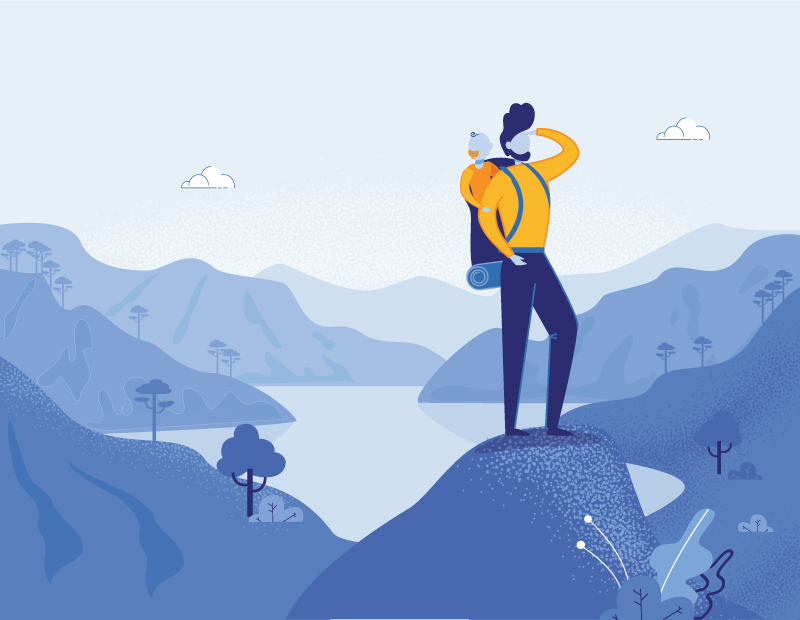 Somewhere between the 3 a.m. wakeups, endless diaper changes, and first-time parent anxiety about whether the baby was burping right, I remembered that I was supposed to be working out.
It's easy to lose yourself in parenting and all of its associated worries. You're tired. Money flies out of your bank account at an alarming rate. Your days are now dominated by the not-so-simple task of trying to keep a small and often insane-seeming human alive. And if you're like too many of us, you have to be back at work long before you're ready.
But somehow, within the tornado that parenting feels like, you have to carve out enough space to keep yourself from being crushed. And for me, that involves keeping up a physical fitness routine, however harried it might be.
Let's back up a bit: I'm not a fitness buff or serious (or non-serious, really) athlete, by any means. You won't find me in a Crossfit box flipping tires, and the last organized sport I played definitely involved a tee (we're not talking golf).
For most of my youth, I would probably have defined my most athletic activity as "walking to the library to get more books."
That started to change in college. Lifting weights helped me put on about 25 pounds, and I discovered I actually enjoy sweating. After school, I moved to Charlotte, and a new world opened up to me: Hiking and backpacking. I moved from Crowders Mountain to Mount Mitchell to the Appalachian Trail, packing more and more miles under my belt as I ticked off amazing hikes. I got into climbing at Inner Peaks (not a terribly original hobby in the post-Free Solo world, I know), and discovered I wasn't bad at that, either.
I went on six overnight backpacking trips in the year before our son, Jacob, was born, several of them solo. Being able to hike 20 miles in a day with a full pack, set up camp, find water, and sleep alone in the woods was a source of secret pride for me.
I loved the admiring looks coworkers and friends gave me when I told them how I spent my weekend. For a kid who was always picked last growing up (literally, and not the way Millennials say that), those looks meant a lot to me.
So when Jacob was born in 2018, getting out of shape was one of my big worries.
It still seems a little bit selfish or vain to say that, especially given how fortunate we were that he was healthy and we could provide for him—but it's true.
How on earth am I going to squeeze in a workout? I wondered. All I was lifting was the Diaper Genie poop sausage.
For the first few months, it was a triumph just to get him up and ready for daycare, then stumble in to work, more sleep-deprived than I'd been since the night before college exams.
But before too long, I realized that I didn't just have a baby: I also had a growing weight. And I could slip that weight into a hiking carrier and take it on the trail with me.
Jacob's been my hiking buddy, even though he doesn't cover many (or any) trail miles on his own. We've been to Stone Mountain, South Mountain, Crowders Mountain, trails off the Blue Ridge Parkway, Morrow Mountain, Lake Norman State Park, and a half-dozen Mecklenburg County parks and nature preserves. He knows how to nod off in the hiking backpack and eat his Goldfish sitting trailside when it's snack time.
And we've gotten better at rolling with the punches. He threw up on the way to Morrow Mountain (car sickness from the winding roads), soaking his clothes and car seat. We put him in my shirt and did a shortened hike. I had to wash his car seat three times.
It was a disaster, and one of my favorite days as a father.
The best part of hiking with him as part of what I do to stay in shape (besides spending time with my son and introducing him to nature): He keeps getting bigger, upping the challenge factor. Now, hiking with him in the carrier is about the same as carrying my backpacking pack loaded for a two-night trip.
I've realized a few things along the way, and even though everyone's parenting journey and ideas about fitness are different, I think they might apply more broadly.
Accept the Imperfect
I'm a consistent (my wife would say uptight) guy who likes structure. I stick to the same routine, be it alternating weight days and cardio days, climbing on the same days or doing a certain number of bodyweight exercises in a week.
But when you're a parent, that goes out the window. Your kid is sick and you can't get to the gym. You miss your climbing day because it's your turn to pick up from daycare. Your baby is up all night, and you're too tired to move in the morning.
That's OK. It took me a while to get there (and my wife would say I'm still working on it), but if you don't accept that your routine is going to be a whole lot less, well, routine, then you're probably going to go a bit nuts.
Include Your Kid
It's tempting to see workout time as "my time" — and I do sometimes, especially when I get to go to the welcome oasis of the gym. But it's easier, and healthier, to include my son whenever I can.
So when I'm at home doing a weight routine, he gets to be in there with me. Jacob likes imitating the movements, including pushups, which he's getting better at. Outside, he rides in the carrier for hikes and long walks. I know I could hike farther or lift harder without him there. But I stop myself: What would be the point?
Thank Your Partner
If you're fortunate enough to have a partner who supports you, show some appreciation. My wife gives me time to go to the climbing gym after Jacob is down or before he's up. It's a small part of the intricate scheduling dance that becomes your life after having a baby, but it means the world to me, and helps keep me from going off the rails. I try to repay her by making dinner and doing the laundry.
ELY PORTILLO was a longtime reporter for The Charlotte Observer and is assistant director of outreach & strategic partnerships at UNC Charlotte Urban Institute.