St. Patrick's Day Green Velvet Cupcakes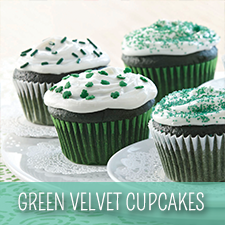 Celebrate St. Patrick's Day with Flavorful Green Treats
St. Patrick's Day is the perfect occasion to have fun in the kitchen with the color and flavor of the holiday – vivid green and refreshing peppermint.
"Food color and extract can transform an ordinary cupcake or cookie into a festive delight, worthy of any St. Paddy's party," said Mary Beth Harrington of the McCormick Kitchens.
For a green twist on classic red velvet cupcakes, stir green food color into basic cake mix and add pure vanilla extract, sour cream and cocoa powder. Whip up minty green cream cheese frosting and decorate with green sprinkles or colored sugar to make them fun for kids of all ages.
For more St. Patrick's Day ideas and recipes, visit McCormick.com, Facebook.com/McCormickSpice, or Pinterest.com/mccormickspices. 
Easy Green Velvet Cupcakes
Prep Time:  20 minutes
Cook Time: 20 minutes
Makes 24 servings
1 package (18 1/4 ounces) German chocolate cake mix with pudding
1 cup sour cream
1/2 cup water
1/4 cup unsweetened cocoa powder
1/4 cup vegetable oil
1 bottle (1 ounce) McCormick Green Food Color
3 eggs
2 teaspoons McCormick Pure Vanilla Extract
1 container (16 ounces) cream cheese frosting or Vanilla
Cream Cheese Frosting (recipe follows)
Green sprinkles (optional)
Preheat oven to 350°F. Beat cake mix, sour cream, water, cocoa powder, oil, food color, eggs and vanilla in large bowl with electric mixer on low speed just until moistened, scraping sides of bowl frequently. Beat on medium speed 2 minutes.
Pour batter into 24 paper-lined muffin cups, filling each cup 2/3 full.
Bake 20 minutes or until toothpick inserted in center of cupcake comes out clean. Cool in pan 10 minutes. Remove from pans; cool completely on wire rack. Frost with cream cheese frosting. Decorate with sprinkles, if desired.
Minty Green Cream Cheese Frosting:
Stir 1/2 teaspoon McCormick Pure Peppermint Extract and 1/2 teaspoon McCormick Green Food Color into canned cream cheese frosting or Vanilla Cream Cheese Frosting.
Vanilla Cream Cheese Frosting:
Beat 1 package (8 ounces) cream cheese, softened, 1/4 cup (1/2 stick) butter, softened, 2 tablespoons sour cream and 2 teaspoons McCormick Pure Vanilla Extract in large bowl until light and fluffy. Gradually beat in 1 box (16 ounces) confectioners' sugar until smooth. Makes 2 1/2 cups.