St. Patrick's Day Craft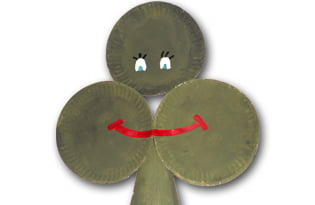 You need:
– 4 Paper plates
– green, red, black, white & either green, blue, or brown paint for eye color
– 2 paint brushes 1 large, 1 small
– scotch tape or glue
How to do it:
1. Paint 3 of the plates green
2. Tape or glue together the 3 plates in a triangle
3. Fold the edges in on the 4th plate into a cone shape as shown in the picture, then paint the top flat part of the folded plate green
4. Tape the cone plate on the back of the others between 2 plates, tape at the smaller part of the cone so the larger flared out part of the cone is at the bottom, this will look like the stem of the shamrock
5. Decorate: draw on your shamrocks face- Paint the smile red, paint the eyes any color you'd like, add some eye lashes with black paint, add ribbon or yarn for hair
6. Display your creation; shamrocks are known to bring good luck!