Springtime Crafts Help Birds Build Their Nests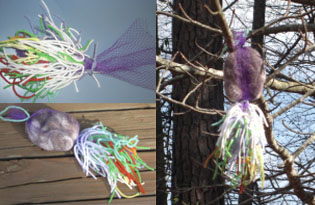 Make a Nest-Picking Fuzzy Egg or Nest-Picking Bunny this spring. They'll look pretty hanging on a tree, and you'll be able to watch birds gather supplies from your creations to build their nests.
SUPPLIES
* A vegetable net bag
* Acrylic and wool yarn scraps.
* Cat fur
* A big plastic needle (optional)
INSTRUCTIONS
1)    Use the needle to work the yarn into the netting and then, cut the yarn. Or cut the yarn into short lengths and work them into the netting with your fingers.
2)    Add fur into the top half of the netting and tie that off to get the basic Nest-Picking Egg shape. Or shape the fur into a critter head with ears and tie them off to make a Nest-Picking Bunny.
3)     Tie your Nest-Picking Egg or Nest-Picking Critter to a tree branch or feeder site.
View craft photos from Blue Jay Point County Park
TIPS
* If you don't have enough fur, you can use a mixture of fur and yarn scraps to stuff the top of the netting to make your egg or critter head shape.
* The holes of the netting are big enough for the birds to pull the yarn out of the fur mixture. We thread the yarn scraps through the netting because it looks cool, but the birds could get to the yarn, even if we just stuffed it in the bottom.)
* Do not use cotton or dyer lint to make these crafts because they collect water and will cause a nest to get soggy, which is bad for the baby birds.
* If you don't have cat fur, any critter fur can be used. Visit a veterinarian to get fur clippings, or you can use human hair since birds don't have a great sense of smell.
* Looking for more ways to attract birds? Find more fun bird projects here.
BIRDING EVENT
Blue Jay Point County Park, in Raleigh, will be offering lots of bird-related crafts at its free day-long Songbird Celebration on Saturday, April 28, from 11 a.m.-3 p.m. Visit the park website for details.
Written by Dana Fitz-Simons, Environmental Education staff member, Blue Jay Point County Park, located at 3200 Pleasant Union Church Rd., in Raleigh.