Sports and Camps: A Winning Combination
With hundreds of sports camps available today, figuring out how and where your athlete should spend his or her time (and your money) can be confusing.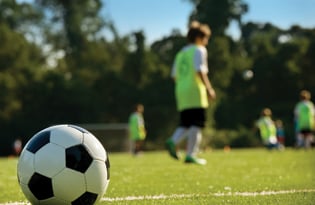 Many young athletes choose to spend part of their summers and school breaks participating in sports camps to improve skills and work toward the next level of play. With hundreds of sports camps available today – from sport specific to all-encompassing sports and agility training – figuring out how and where your athlete should spend his or her time (and your money) can be confusing.
---
Focus on Fundamentals
While some children show natural inclination toward one particular sport early in development, for others it takes exposure to several different forms of play to determine the best fit. This is where an all-sports camp can help. Typically these camps offer a wide variety of choices and athletic pursuits that focus on the fundamentals of each sport in a fun and noncompetitive environment.
"At younger ages, exposing kids to a variety of activities is a great way to find what interests them most," says Dr. Penny Gordon-Larsen, associate professor of nutrition at UNC-Chapel Hill, Gillings School of Global Public Health. "Trying a variety of team sports and individual sports is also important to see what types of sports fit best."
Max Floyd is director of All Sports Camp, which is open to 6- to 12-year-olds, located at Wake Forest University. Floyd and his staff offer campers the chance to try swimming, flag football, racquetball, softball, basketball, archery and more. There is something for every child at any ability, he says.
"Sports is something for everybody, not just the chosen few," says Floyd. "This is what P.E. class was supposed to be years ago." All Sports Camp teaches the basics of each sport, and campers are encouraged to try everything offered to figure out which one clicks.
Choosing an all-sports camp is one way to keep your young athlete learning new skills and to give him or her a break over the summer from the repetition and rigorous practices of the regular season.
Sally McKinley of Charlotte sent her teenage son to McCallie Sports Camp, an action-oriented overnight sports camp in Chattanooga, Tenn. Since he is an avid lacrosse player most of the year, he wanted to do something different over the summer.
"He liked the fact that they played lots of different sports, and they weren't all regular team sports … for example, they played water polo," says McKinley. "It was competitive, and there are awards at the end of camp based on each team's record, but since they play lots of different sports, each kid gets a chance to be good at something."
---
Perfecting the Game
Once a child does find his or her niche, the next step is typically a sports-specific camp. "For those players who have tried different sports and now have settled on one specific sport to concentrate on, there is much to gain," says Greg Moss, sports performance trainer and mental training sports coach at a training facility in Durham.
Kevin Nunley is the executive director of NetWorks Basketball in Raleigh, a year-round basketball training organization that offers a summer basketball boot camp for fifth graders up to college players, as well as player development and year-round clubs. By around age 14, Nunley says he sees more kids choosing the sport for them and getting serious. "Older kids usually have an idea. They've decided basketball is something they want to do," he says. "We're sort of like a tutor. You want to get better at basketball, you come see us." He and his staff work with players of all skill levels – from younger kids who wanted to be good enough to play neighborhood ball to high schoolers who dream of a spot on the school team.
---
Speed, Power, Agility and Fun
Whether the best choice for your child is an all-sports camp or something more focused, one way to help prevent burnout while improving specific skills or fundamentals is introducing a speed or agility camp, says Jed Hartigan, owner and sports performance director at Velocity Sports Performance. The day camps at Velocity Sports Performance use experienced coaches and former professional players to help athletes ages 8 through adult improve speed, power and agility.
Hartigan and his staff teach young athletes how to move their bodies in not only the most proficient manner, but also the safest way in the hopes of preventing injury. "That's the number one reason you should come here," says Hartigan. "We work on increasing mobility and flexibility and teaching children how to run properly."
Year-round classes and programs include pre- and post-athletic evaluations and can be tailored to specific goals for most any sport – from improving run or swim time, to lifting more weight or moving more efficiently on the field.
No matter the sport or competition level, getting kids active is always a positive thing, says Gordon-Larsen at UNC-Chapel Hill. "Encouraging kids to be active is most important – whatever the sport they seem interested in," she says. "Steering kids away from TV and electronic devices and toward active pursuits is important."
---
Before Choosing a Sports Camp: 5 questions for parents
Skill development is a time-consuming process for the parent and the child, and multisports camps typically have a set time frame. Whether your child is trying to decide what sport to choose or is searching for a camp with aspirations of going professional, Seth Shambley, camp director of Dreamsports Center – an indoor sports facility offering multisports camps, leagues and instructional programs in Apex – encourages parents to ask themselves these important questions:
1. Is this something my child wants to do, or something I want my child to do?
2. Has my child found a sport in which he or she excels?
3. Has my child expressed an interest in developing skills in one specific sport?
4. What suits our family lifestyle best?
5. Am I listening to what my child really wants to do?
---
Courtney McLaughlin is a freelance writer in Charlotte.