Spectacular Space for Kids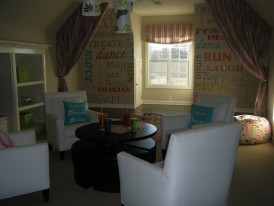 Kids and beautiful interior design don't always go together. But with the right type of space and some good planning you can really make design magic happen! Here is a special bonus room to give you some inspiration. If you are in the market for a new home, try and find one with a bonus room. Some builders call them FROGs, which stands for Family Room Over Garage. Either way, it gives you the opportunity to make a comfortable and inviting space for the kids to play without their mess taking over your main living areas. 
The seating arrangement in this bonus room is ideal for children. How many of us have heard the shrill crying of "She's touching me!" or "He's sitting too close to me"? Having four individual club chairs allows each child to relax in comfort without any risk of hands or feet finding their way to unwelcome territory. They are angled to face each other but are light enough to turn around to face the TV or the stage.
Speaking of the stage, how fantastic is this one? It is such an easy improvement to add to your home and the kids will absolutely adore performing for their friends and family. If you want the true feeling of a theater, the curtain tracks can be extended across the entire ceiling so they can be opened and closed.
For the artists in the family, consider painting a door or even an entire wall with chalkboard paint. Again, it is another quick and easy upgrade that can provide hours of fun and entertainment. Chalkboard paint can be custom blended in any color if you prefer having it match your decor instead of being the traditional black.
Has this inspiredn you to create a fun-filled playroom for your kids? What elements would you include? Please share your ideas in the comments section below.
Barbara Green is the owner of Sensibly Chic Designs for Life and the host of Ask the Design Diva radio show. She believes you CAN have it all: kids, pets, and a beautiful home. Her showroom is located at
830 Lamar Avenue in Charlotte and is open by appointment only. Call 704-608-9424 to schedule your free initial consultation.