Special Olympics North Carolina: Beyond Track and Field
Special Olympics North Carolina offers athletes the chance to shine year round.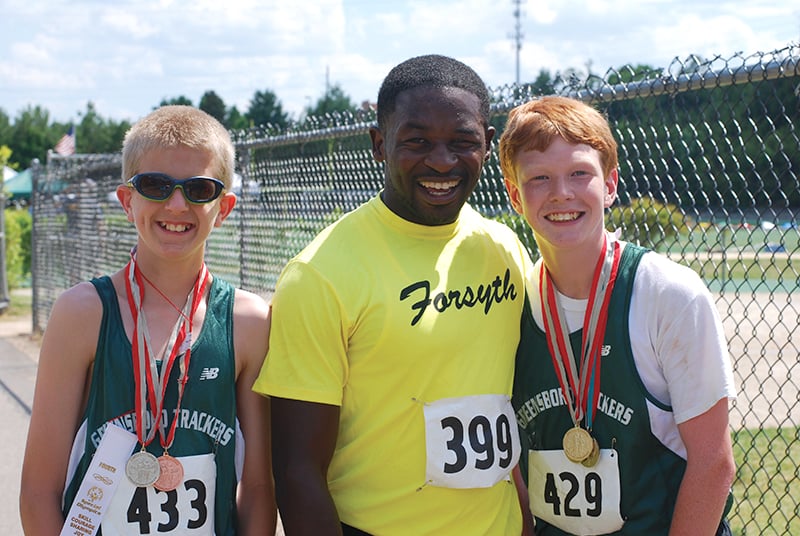 Dustin Edmondson is a born athlete. At 10 months old he had a ball in his hand, and his walk quickly turned into a full run. By age 8, he was competing in track and field, soccer and basketball events — often as the youngest member of the team. Dustin is now 15 and attends Southern Guilford High School in Greensboro where he runs cross-country, and winter and spring track for his school. He is also one of the managers for his brother's travel baseball team and dreams of working for the Charlotte Hornets someday.
All these accomplishments from a child whose mother was told he might not ever walk or talk. Dustin has cerebral palsy as a result of incurring two strokes at birth. Thanks to a physical education teacher who recognized his talent and drive, he became active with Special Olympics North Carolina while in elementary school.
"It's amazing where he has come from," says Dustin's mother, Sherri Edmondson. "Without the Special Olympics program, where would we be? We've never told him he cannot do something, we've always been positive with him," she says.
---
Building Confidence
Dustin is just one of more than 39,000 SONC athletes who participate in 19-plus Olympic-style sports year round. The organization offers a stepping-stone for athletes like Dustin to gain confidence, develop physical fitness, demonstrate courage, experience joy and find a supportive community. Sports include everything from golf and roller skating in the fall to basketball in the winter, softball and aquatics in the spring, and equestrian and camp opportunities in the summer. There is no cost to athletes or their families to participate in Special Olympics, and SONC also offers free health screenings to athletes at state-level competitions.
"There is always a season underway," says Megan O'Donnell, vice president of communications for SONC. "Every county in the state has a local program so no matter where you live there is a program close by."
Each sport has an eight-week season when athletes train to compete in local and state-level events. Athletes are grouped by age and ability. In Charlotte, the SONC chapter offers camp SOAR (Special Olympics Athletic Retreat) at the Jewish Community Center of Charlotte in the summer where athletes can try a variety of sports and see what they enjoy.
For children ages 2-7, Special Olympics Young Athletes emphasizes coordination, teamwork and developing motor, social and life skills through games and play.
"It's up to the athletes and the families as to what their interests are," says Greg Morrill, director of Special Olympics Mecklenburg County. "We look at the abilities, not the disabilities. We have some very accomplished athletes."
---
Positive Impact
SONC athletes are given opportunities to explore their talents and leadership abilities beyond the sports arena through the Athlete Council, or by becoming a SONC coach or volunteer, or a speaker with the Global Messenger program. Through the Global Messenger Program, Dustin gets public speaking and presentation skills training. He then goes out into the community to share his story and information about Special Olympics to inspire others and recruit athletes, volunteers, and help raise funds.
"We see so many of our athletes gain greater self-confidence and self-image," Morrill says. "And the benefits carry over into their daily lives, the classroom and in the community."
Watching Dustin compete with the support and encouragement of fellow athletes and their families is one of the best things about SONC, Edmondson says. "All of his buddies cheer him on. There is nothing negative — it's always positive, and that's what sports should be," she says.
---
Get Involved
Amy Clark works for Charlotte-Mecklenburg Schools and is a member of the adapted physical education instructional support team. She is also a swim coach for SONC competitors.
"I get a sense of satisfaction, pride and pure joy in watching these athletes work hard through their sport, attain their goals and display the most sincere sportsmanship for each other I've ever seen," she says. Clark was a coach at the World Games in Los Angeles this past summer. "My athletes give me as much as I give them."
There are myriad ways to become involved with SONC. Volunteers can become a coach or compete alongside an athlete through Unified Sports. Members of the community can also sponsor an athlete, join the Torch Run or volunteer at a sporting event.
"These folks come out and give of their own time," Morrill says. "One experience and they are hooked."
For more information about Special Olympics North Carolina, visit sonc.net.
Courtney McLaughlin is a freelance writer in Charlotte who has found much inspiration from these athletes who never give up.