Sparkling Lemonade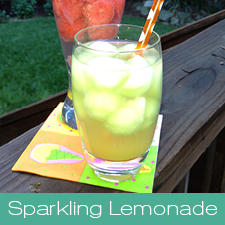 This refreshing and delicious lemonade is the perfect addition to your next party.
Ingredients:
1/2 cup sugar
1/2 cup hot water
1 cup lemon juice or orange juice
3-4 lemon and/or orange slices, cut in half
3 cups cold water
Sparkling bottled water, unflavored or citrus flavor
Melon ball ice
Preparation:
Start by making the melon ball ice. Scoop melon balls out of a cantaloupe or honeydew melon. Place the scooped balls on a small cookie sheet and place in the freezer for several hours. Once the individual balls are frozen, transfer them to a plastic freezer bag until you are ready to use. You can freeze maraschino cherries in the same way. (These frozen fruit balls also make a great summertime treat!)
For the lemonade or orangeade: Mix hot water and sugar together in a pitcher. Stir until the sugar is dissolved. Add lemon or orange juice, lemon or orange slices and cold water. Chill before serving.
To serve: Fill a glass halfway with your choice of lemonade or orangeade. Put 5-6 frozen melon balls and 1 frozen maraschino cherry in each glass. Top with a splash of sparkling water just before serving.
Variation: For pink lemonade, add 1 cup Cran-apple juice in place of 1 cup of water.