Something Special for Mom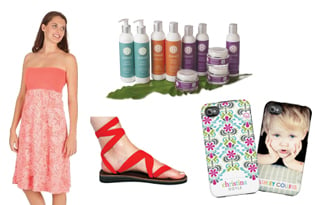 Drop a hint to the ones you love for a gift that indulges your sense of style, whimsy and beauty.
Sseko Sandals are unique in that there are many ways to tie and style them. Each sole is handmade from genuine leather and has five anchor points to lace interchangeable straps that come in a variety of colors and prints. Materials are sourced locally from the East African region, and sales of Sseko sandals help young women pursuing education in Uganda. $49-$52. Additional straps $10-$13, Ssekodesigns.com.
Kumani Essential Products are made with 100 percent natural shea butter and organic ingredients. The beauty line includes skin, hair and body products that are safe for expecting mothers to use throughout pregnancy and are gentle for all skin types. The shea butter offers protection against UV rays, soothes and hydrates dry skin, lightens scars, restores luster in hair and helps prevent stretch marks. $24-$46, KumaniEssentials.com.
Personalized iPhone Case from ErinCondren.com
is made from shatterproof polycarbonate plastic for great protection with a slim fit. Available in a variety of fun colorful signature designs that can be customized with different color combinations or a photos. $59, Erincondren.com.
Fresh Produce offers mom and daughter flattering wardrobe basics and standout styles. From casual tops and feminine dresses to decorative scarves and stylish pants, there are many options for duo style. Convertible dress, $59, Freshproduceclothes.com.