Snow Cream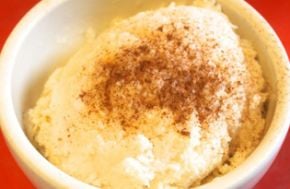 There's a wintry mix tap-tapping on my window right now. Since we got our first snow of the season a week ago, I set a large bowl outside. I'm hoping for a good showing of snow so we can make snow cream!
Growing up, my mama and grandma always treated us with snow cream when it snowed. They always said you couldn't use the first snow. I'm not sure if that was just superstition or if it's grounded in some theory that the first snow catches pollution from the air and after that first snow, it's 'clean'.
Since this is not our first snow of the season, I set a bowl outside to catch some. Here's my grandma's recipe for snow cream. We only made vanilla flavored snow cream growing up, but now I like to top it with cinnamon, for what I like to call "Snickerdoodle Snow Cream." Bailey's Irish cream makes for a very nice topping for the adults as well. 😉
SOUTHERN SNOW CREAM
Ingredients:
Fresh clean snow
1 14 oz can sweetened condensed milk
2 tsp vanilla
Directions:
Gather heaping fresh, clean snow in a large mixing bowl.
Fold in the sweetened condensed milk and vanilla until thoroughly mixed. As it is stirred, the snow will reduce by about half.
Add toppings and other mix-ins as desired.
Note: an icier snow creates more of a "snow cone" texture than the fluffier stuff!