snOMG Days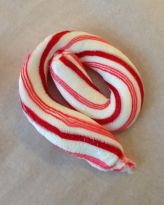 If you are anywhere near the Carolinas, if you have a TV or use Facebook, you surely know by now that Charlotte is in the midst of Snomaggedon, the Snowpocalypse, the Storm that Stopped the South, or my favorite, snOMG!
Whatever you call it, the roads are an icy mess, we haven't left our street for 3 days, and it's still snowing with no end in sight. We're going a little bit crazy in here and you might be too.
So here are a few simple projects you can do with stuff you've probably got on hand-and without dipping into that precious stock of bread or rock salt!
Obviously, we've got snow. So while it's fresh, clean and fluffy, go scoop some up and make snow cream! This recipe couldn't be easier, and it's fast and delicious-like a slushy vanilla ice cream. Just scoop up a few cups of freshly fallen snow. In a different bowl, mix together the milk, sugar and vanilla extract. Add snow and stir! The linked recipe makes about 4-6 cups of snow cream but you can easily adjust the proportions for smaller amounts. We used skim milk, friends used almond milk, and both variations were delicious. We served ours with chocolate syrup and whipped cream-snow cream sundaes!
And if you're anything like us, you've got some long-forgotten candy canes hanging around the house somewhere. Why not give them a second life as valentines? Unwrap them and lay them on a parchment-lined baking sheet in a 250 degree oven for about 9-10 minutes, until they look a little bit puffy and soft, but aren't fully melted. Take them out and cool for a few seconds until you can handle them. They'll be warm and flexible, and you can easily bend them into any shape you like. If they harden again before you finish, just pop them back into the oven. Voila! Valentines done!
And they're delicious with hot chocolate and a snow cream sundae! Enjoy the storm-who knows when we'll all be home together with nothing to do but play again?
Want more Mess? Visit Melanie's blog, or drop by her Etsy store, Made by Mommy!