Smart Spring Clean-Up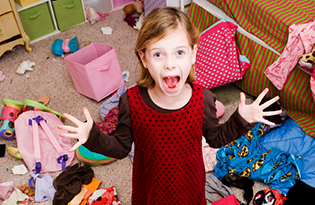 Does it feel like your home is being overrun by your kids' toys? It doesn't have to be that way. Here are five organizing tips than can help you take back control. The most important thing to remember is to involve the kids in the organizational process. That way they are more invested in the organization and more likely to help maintain it.
1. Establish an "in and out" rule for the family. Make it clear that every time a new toy comes into the home, an old one has to go out. This helps develop children's compassion and desire to share their things with those who are less fortunate.
2. Invest in sturdy shelving to get the games and toys up off the floor. I like the Expedit shelf by IKEA because it comes in different sizes and you can get bins and baskets to prevent whatever room it is in from looking like a toy store.
3. If you have toys your children are not ready for or that they need supervision to use (craft supplies, perhaps?), keep those on high shelves where the children will not be able to access them without your help.
4. Repurpose. A fishing tackle box is great for toys with small pieces such as Matchbox cars, Polly Pockets and others. The handle also makes it convenient to take on play dates.
5. Hang a 12-inch-deep shelf 12 inches from the ceiling, going from wall to wall. This is an excellent place to put stuffed animals, keepsake dolls and other toys they will want to treasure forever.
Barbara Green is the owner of Sensibly Chic Designs for Life and the host of the syndicated radio show Ask the Design Diva. Get more organization tips from Barbara Green in her blog, Home With Kids.
Related Links:
> 5 Tips to Organize Sports Equipment 
> 5 Household Cleaning TipsÂ