Sleepover Options for Grandma's House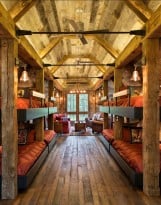 Over and over this week I heard parents talking about sending their children to Grandma and Grandpa's house for spring break. This past weekend I got away myself and went to the mountains for a couple of days. While there I fantasized about having a mountain home where my kids can bring their kids (when they have them…) I imagined building a fabulous bunk room for the grandkids, much like in the photo to the left. Here are some ideas for creating a bunk room that is just as functional but much more affordable.
This bunk has the rustic look of a mountain cabin but can go anywhere. With the full over full configuration you can fit up to four grandkids. Each step is a storage drawer and the base has additional storage, which will come in handy considering the amount of stuff kids travel with these days!
This bunk set is adorable because the bottom section is a cute dining/play table for the day time but then converts for sleep at bedtime. It sleeps a maximum of two, but you can line up a set on opposite walls if you need more sleep space and want to create that "bunk room" feel.
The final bunk option is for someone who wants a more contemporary look. It has very clean lines and even though it is made of strong and heavy steel, it has a light, open feel, unlike the wood bunks. Another full over full configuration provides ample space for 4 grandkids to sleep comfortably.
Be sure to send the kids off with their favorite jammies, blankie, stuffed animal, or any other important part of their normal bedtime ritual. It will make the transition much easier. Do you have any other ideas or tips for sending kids off to their Grandparents? Please share in the comments section below.