Simple Suncatchers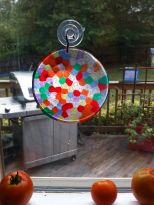 Last week I posted a photo on Facebook, and immediately received a flurry of comments from friends I never hear from – comments like "Wow, what is that and how did you do it?" In response, I promised a blog post explaining it all. And here it is – a simple and inexpensive suncatcher project that will make even your long-lost childhood friends tune in.
Full disclosure, I found this activity on a blog I subscribe to, the Artful Parent.  If you love crafting with kids, the Artful Parent should be required reading. It's sometimes a tutorial, sometimes philosophical, and always teeming with joy and inspiration. I have it delivered to my inbox. 
Anyway, back to the suncatchers – we made a few adaptations from the original tutorial. All you need are translucent ponytail beads, metal pans to use as molds, and a heat source.  
Place a single layer of beads in the bottom of the molds. We used muffin tins and metal cookie cutters on a baking sheet. You can arrange the beads in intentional color patterns, or just scoop them in like we did.
The Artful Parent suggests baking these in an oven. Fear of fumes drove me to the outdoor gas grill instead. This was great for a few reasons – the house didn't smell, and the melting was very fast. In under ten minutes, the beads were completely liquefied. It's important to remove the pans from the heat as soon as this happens. If you wait too long, they'll start to bubble and the bubbles will remain in the cooled suncatcher. Once off the grill, they dried and hardened in about ten more minutes.  
And guess what? They popped right out of the pans! They stuck just a bit in the cookie cutters, but with a gentle push those popped out too. I'd lined the baking sheet with foil, which was unnecessary and actually left marks on the suncatchers where the foil was wrinkled. A few were rough around the edges so we smoothed them with sandpaper. 
Now, what to do with them? We drilled small holes in some of them and made a mobile. We hung others from those suction-cup things and stuck them on the window. And others are just leaning on the ledge. All are gorgeous. The project was simple, and we've got plenty of ponytail beads for the next time.
A few things we learned:
• I think the opaque beads would melt too, just not as suncatchers. Opaque beads might make great ornaments though.
• I mentioned above that if you heat them too long the suncatchers will start to bubble and leave cloudy air pockets when they cool. This happened to us because the grill heats unevenly. Next time, we'll rotate the trays so all the suncatchers will have equal time directly over the flame and hopefully they'll all liquefy together.
• I half expected this project to leave my pans with a permanent layer of melted plastic, so I used old, rusty ones…and they came out cleaner.  Seriously, the rust somehow got stuck in the plastic when it melted, and stayed with it when it hardened. The rust-filled suncatchers aren't quite as sunny as the clean ones, but the pans look terrific!  
Want more Mess?  Visit Melanie's blog!