Simple Decorating Ideas for Spring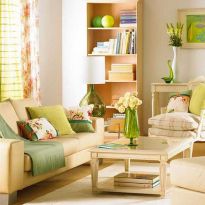 We have been on a roller coaster ride of weather lately so let's add a touch of spring to our home to get us through the few chilly days we may still have left. Spring decorating is all about bright, happy, color. Hopefully you have heeded my advice and kept your major furniture purchases to a neutral palette which enables you to change the feeling of your room with a few minor adjustments to accessories. 
Nothing is simpler than throwing new pillows on the sofa to breath new life into a room. These pillows are stain proof and machine washable so they are perfect for homes with messy little fingers or pets. 
Garden stools come in an array of eye-popping bright hues and are used inside the home as side tables or extra seating. They look especially springy when drenched in vivid sherbet colors.
These spring green candlesticks will look beautiful arranged on a mantle or tabletop. Having extra candles around is also a good idea in case any of those heavy rain storms so prevalent in spring take down trees and your electricty along with them!

Don't forget the front door, either. This wreath is an easy art project that you can do with your kids. This is a great time of year for a nature walk and while you are exploring, gather some fresh ferns and greenery. If you stumble upon an abandoned nest that would also be a great addition. Paint some plastic eggs in soft pastels and then use a toothbrush to splatter a little brown paint to make them speckled. Glue the eggs, nest, and greenery to a grapevine wreath, add a bow, and hang it on your front door to welcome guests and passersby.
What do you do to bring spring alive at your home? Please share your ideas with our readers!
Barbara Green is the owner of Sensibly Chic Designs for Life located at 830 Lamar Avenue in Charlotte and host of Ask the Design Divaradio show. She believes you CAN have it all:
kids, pets, and a beautiful home.