Simple and Sweet Valentine Treats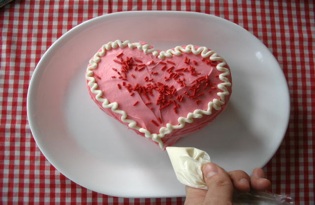 Playing cupid doesn't have to be complicated. Some of the simplest touches can actually be the sweetest. Whether you're looking for a personalized card for that special someone, or a surprise dessert for the whole family, we've got some quick and simple ideas to make your Valentine's Day extra special.
No-Bake Chubby Cherub Cake
If you're short on time, but big on sentiment, this is the perfect dessert solution. Using a store-bought pound cake, some pink cherry icing and a few sprinkles, this cake takes just minutes to put together. Whether you're serving up dessert at a party or the end of a family dinner, this cute confection is "just desserts" for all your Valentines.
To make the Chubby Cherub Cake, use a store-bought pound cake, or bake one of your own in a loaf pan. Cut a triangle slice out of the center of the cake and set it aside.
Close the triangle gap between cake halves by sliding remaining halves together to form a heart shape. Use one can of pink cherry icing or tint a can of white icing pink with a few drops of red food coloring and use to generously ice the top and sides of the heart-shaped cake. Decorate to your liking with extra icing or sprinkles.
Tickled Pink
Valentine's Day is about showing your true colors – in this case red, white and pink. With a few drops of red food coloring, even the most mundane menu can look pretty perky. Start your Valentine's Day off with a cleverly colored breakfast buffet featuring morning mainstays with cupid's touch.
Pretty in Pink Pancakes. Add a few drops to pancake batter and try pouring them in a heart shape. Substitute usual maple syrup with whipped cream and red sprinkles or strawberry-flavored syrup.
Positively Pink Milk. A few drops of red food coloring added to a kid's milk or the cream for your spouse's coffee will tickle them all pink.
Cheesy Valentine Bagel. Add a pink punch to ordinary cream cheese with a few drops of red food coloring and spread on your favorite bagel.
A Valentine's Day Toast. Use a heart-shaped cookie cutter to cut regular bread slices into heart shapes. Pop in the toaster and spread with raspberry jam or butter and red decorator's sugar.
Don't forget about the other foods whose natural colors lend themselves to the festivities, like pink grapefruit juice, berry yogurt, strawberries and cherries.
Want to add a little atmosphere? No need to load up on expensive store-bought decorations.  Decorating for Valentine's Day can be a simple as a few paper heart cut-outs hung in the windows or a couple strands of white holidays lights strung around the stair banister. Add a little romance and cheerfulness to your Valentine's Day celebration with a couple of these easy ideas.
Fuzzy Valentine Garland
Use fuzzy red pipe cleaners to make a super-simple garland to string across a doorway, around your dinner table or up a staircase. Fold a full-sized pipe cleaner in half and then wrap ends around and twist in the center to create a heart link.  Cut pipe cleaners in half and twist ends together to make single circular links.  For even more variety, make links out of purple, pink and white pipe cleaners. Warning: The wire pipe cleaners can be sharp on the cut ends and parents should help younger children when twisting pipe cleaners.
Red and White Valentine's Table Setting
Gather your favorite red and white checkered picnic table cloth, your ordinary white napkins, a few red and white votive candles and plain white dinner dishes to create a totally Valentine's Day table setting. Cut small square confetti out of red and pink construction paper to scatter on plates, tie napkins and stemware with left over red holiday ribbon and make heart-shaped place cards using red and pink markers.
A Little "Light" Decorating
Use those white holiday lights to create a warm and cozy Valentine's glow in your dining room, family room or entrance way.  String lights in house plants, along window sills or doorways to add a festive glow to your Valentine's Day.
Special Valentine's Day cards may be the hallmark of the holiday. Make it a family affair by scrounging up scraps of fabric, buttons, tissue paper, glitter and glue and spend a special afternoon creating personalized Valentine greetings. Looking for a fresh idea? Have the kids try the fun, hand-traced card featured below to surprise parents, grandparents or a special teacher.
Gotta Hand It To You, Valentine…
This is truly a "hand" made card…created by tracing your child's hand in a way that delivers a "hearty" message. Start by folding a piece of construction paper in half.  Lay your child's hand down with their thumb and index finger on the folded side. Trace their hand lightly on the paper with a pencil and cut out the hand shape, leaving the thumb and index finger fold in tact. Hold the card with the fingers pointing down and open it to reveal a big surprise…a heart-shaped cut-out between the hands.
Need a few Valentine's slogans for your "hand"made creations?  Try these messages:
Outside: Gotta hand it to you, Valentine…
Inside: You've got my heart!
Outside: You've won me over, Valentine…
Inside: Hands down!
Outside: I have something to give you, Valentine…
Inside:  My heart belongs to you.
Sharon Miller Cindrich is a a mother of two, wife and keeper of several household pets. She has written several books including "E-Parenting: Keeping Up With Your Tech-Savvy Kids."