Shrinky Dink – Suncatcher Mashup!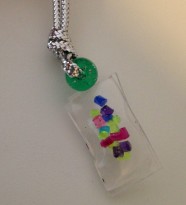 In my last post, I wrote about our new fascination with an old product: Shrinky Dinks. A month later, Amelia's crafty love fest continues. We are well into our third package of shrink film, which I finally bought in an economy sized package. This stuff is a huge hit in our house.
And I'm bored out of my mind.
I mean really, how many pages from the Frozen picture books can you trace, color and shrink?
But I'm a firm believer in letting Amelia stay engaged with a project for as long as she's interested, even if I'm ready for something new. So last week, I started experimenting with the film.
I wondered what else would melt, and remembered this post from a few years ago. I pulled out the ponytail beads, along with some perler beads we received as a gift, and some leftover plastic bits from a stained glass kit and other projects.
With an array of small sparkly items spread across the table, even Amelia was interested enough to put down the Frozen book.
We melted beads on top of the shrinky dink film. We sandwiched different types of beads between two layers. We combined drawings on film with dimensional beads on top. We watched them shrink and meld together, and had to figure out how many beads a film would support, once shrunken. We figured out which beads melted fastest and slowest, and which ones stuck best to which other ones. Each attempt was a new experiment, some worked as we expected and others were big surprises.
And it was fascinating. We might be good for another month.
Want more Mess? Visit Melanie's blog, A Crafty Mess, or drop by her Etsy store, Made by Mommy.