Shopping Your Closet for Fresh Holiday Style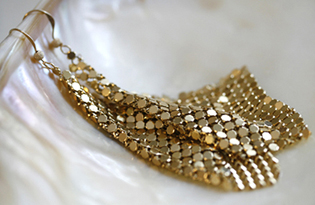 The holiday season is perhaps the most fun time of year to get dressed up. So, you want to look great but don't want to go out hunting for something new? Here are a few tips on how to get creative using what you've already got, then turn to some local jewelry designers for the finishing touches.
Holiday Jewel Tones
Garnet, plum, burgundy and other deep shades of red have been steadily trending the past cold weather seasons. As winter approaches, forest green takes center stage with its rich earthy tone. Paired with or without sparkly jewels, try the two together for a more sophisticated spin on holiday red and green.
Work Party Wear
This is the perfect time to reach for the crisp white blouse everyone owns, or should own. Pair it with a simple black pencil skirt or a pair of black tuxedo pants. Keep this classic look understated yet elegant, and if you want to elevate your outfit, throw in a touch of sparkle with accessories. Do this with one or two items only; sparkling earrings, a statement making cuff on your wrist or clutch, or jeweled pumps. Corporate meets tres chic.
Cocktail Party Chic
OK, are you ready for this one? This is the time to break out those bridesmaid dresses you were told you could wear again but have yet to prove. Any outfit is only as good as it fits. Most bridesmaid dresses have potential if only the hem was a little shorter or the sleeves weren't so puffy or they didn't have that silly bow around the waist. Take that dress to a good seamstress, have it tailored, throw in some killer accessories and knock everyone's socks off when they learn you are wearing a bridesmaid dress.
Family Gatherings and Everything Else
Most of us want to be comfortable at those more relaxed gatherings. It's the holiday season, however, so it's better to be overdressed than not enough. Enter the little black dress. Embrace the opportunity to put your best foot forward while keeping it easy with comfy accoutrements. Reach for patterned or colored tights, flats or boots, and a plush wrap to keep cozy.
Awesome Accessories

My favorite part of any outfit is the accessories. This is the way to really make a look your own. Charlotte is home to a plethora of amazing jewelry designers. Currently, I am loving the Leather+Druzy Quartz cuffs by Blydesign (pictured, left) and the Studio 54 and Tegan earrings by Erin McDermott Jewelry (pictured, above) – all fantastically festive for the holidays!
Whitley Adkins-Hamlin lives in Charlotte, is mom to two boys under age 5. Read her blog at CharlotteParent.com/blogs.