She's Baking Cupcakes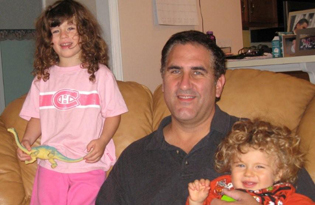 This is hard to admit, but my little girl is starting to grow up. The other day, Sage made homemade cupcakes with her mom, and then the two went around the neighborhood delivering tasty treats to the lucky few. Sage did not just want the cupcakes for herself. She wanted to share them.
I have to admit, it puts a lump in my throat (no, I'm not talking about the cupcakes … watch it, that's my little girl you're talking about). She was so excited, and I realize she is starting to act like a young lady instead of a toddler. I'm not sure how I feel about that.
I know Sage has to grow up, and it's very exciting to be able to do new things with my little girl, such as playing a game of catch or having a conversation, but I'm going to miss the young Sage. Soon she won't need me to tuck her in, tell her bedtime stories or put her on my shoulders for daddy-rides.
I do have Brayden to fill the toddler void – after all, he is three years younger than his sister, but as much as I love him with all of my heart, there's a special daddy-daughter bond that is hard, if not impossible to replace. So, I've come up with plan B.
As Sage keeps getting older, I'll make sure to stay involved in every aspect of her life. I'll stay involved in her after-school activities. I'll constantly give her the wisdom of my years.
As she starts hitting her teenage years, I'll keep tabs on her as she goes out with her friends. I'll be the cool dad making tons of jokes so her friends will want me to tag along. If I ever let her go on a date, I'll be the guy in the trench coat and Groucho glasses following closely behind my daughter and the knuckle-head who absolutely is not good enough for my little girl … SIGH. As she gets older, she'll be more with her friends and less with my wife and me. It's not fair. All the times she was sick, I stayed awake making sure she was OK. I can't even cook, yet I made her breakfast, lunch and desserts. I know she's not yet in kindergarten, but soon she will be, and then in junior high, and high school will be next, and then … oh my gosh … she's going to college. She's going to choose a school far away, and I'll only see her during Christmas and spring breaks. I don't even want to hear about the guy she's been dating and that they're getting serious. I feel woozy.
I'm getting a headache. There is only one thing to do to make this right. I think I'm going to get a cupcake, and hopefully a hug.
Bruce Snyder is the sports director at Fox Charlotte. He lives in Charlotte with his wife, Charisse; daughter, Sage; and son, Brayden.