Sharing Valentine's Day Love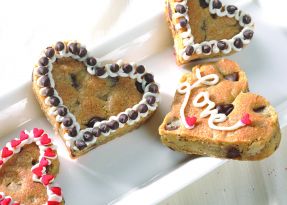 I love that we have a day designed to celebrate love! And I enjoy finding creative ways to show the people in my life how much I care about them. This year, I'm sharing some ideas from the kitchen and from the heart so that you can put some extra L-O-V-E into your Valentine's Day.
L for a love letter you write to someone special. Whether it's a spouse, a child, or a dear friend, take some time to write down the reasons they are so special to you. It will be a gift they treasure for a long time.
O for organizing the family photos in a new way. Create a slide show on a DVD, a photo book or calendar, or even a family website where you can share pictures and stories with out-of-town loved ones. You'll preserve old photos and help create new memories.
V for Valentine cookies like these Chocolate Chip Cookie Hearts (recipe below). They're a simple way to share some love. Even the youngest bakers can help make them by pouring ingredients and using cookie cutters to make the heart shapes. Have fun decorating them with pink, red and white icing and Valentine sprinkles.
E for an elegant dessert like this Chocolate Raspberry Mousse Pie (recipe below). It's easy enough for anyone to make, yet pretty enough to show off at a Valentine's Day party or a romantic dinner.
For more Valentine recipes you can share, visit www.verybestbaking.com.
Chocolate Chip Cookie Hearts
Prep: 20 minutes
Baking: 18 minutes
(Makes about 18 hearts with 2 1/2- to 3-inch heart cutter)
2 1/4 cups all-purpose flour
1 teaspoon baking soda
1 teaspoon salt
1 cup (2 sticks) butter, softened
3/4 cup granulated sugar
3/4 cup packed brown sugar
1 teaspoon vanilla extract
2 large eggs
2 cups (12-ounce package) Nestlé Toll House Semi-Sweet Chocolate Morsels
1 cup chopped nuts
Metal or heat-safe heart cookie cutter(s) of desired size(s), 1 inch in height
Various icings, sprinkles, Nestlé Toll House Semi-Sweet Chocolate Mini Morsels
Directions
PREHEAT oven to 375 degrees. Line 15-by-10-inch jelly-roll pan with foil; lightly grease.
COMBINE flour, baking soda and salt in small bowl. Beat butter, granulated sugar, brown sugar and vanilla extract in large mixer bowl until creamy. Add eggs, one at a time, beating well after each addition. Gradually beat in flour mixture. Stir in morsels and nuts. Spread dough into prepared pan.
BAKE for 18 to 22 minutes or until golden brown. Cool completely in pan on wire rack. Lift from pan with foil handles to cutting board. Cut out hearts with cookie cutter(s). Remove hearts while peeling away foil.
DECORATE as desired.
Chocolate Raspberry Mousse Pie
Prep: 15 minutes
Cooking: 5 minutes
Refrigerating: 2 1/2 hours
Yield: 8 servings
1 can (12 fluid ounces) Nestlé Carnation Evaporated Milk
2 large egg yolks
2 cups (12-ounce package) NestlÈ Toll House Semi-Sweet Chocolate Morsels
1 container (8 ounces) frozen whipped topping, thawed, divided
1 container (6 ounces) or 1 1/3 cups fresh raspberries, divided
1 prepared 9-inch (6 ounces) chocolate crumb crust
WHISK together evaporated milk and egg yolks in medium saucepan.
HEAT over medium-low heat, stirring constantly, until mixture is very hot and thickens slightly; do not boil. Remove from heat; stir in morsels until completely melted and mixture is smooth. Pour into large bowl. Refrigerate for 30 minutes until cool. Gently stir in 2 cups whipped topping.
REFRIGERATE for 2 hours until thickened. Sprinkle 1 cup raspberries over crust. Spoon chilled chocolate mousse over raspberries. Dollop remaining 1 cup whipped topping on center of pie; top with remaining raspberries.
Jenny Harper is consumer test kitchen project manager for the Nestlé Test Kitchens and VeryBestBaking.com. Photo courtesy of Nestlé. Article courtesy of www.familyfeatures.com.