Setting Baby Expectations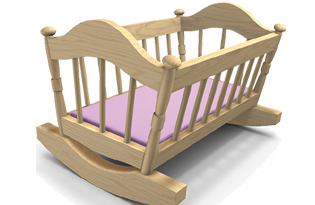 So, you think this might be your year to start a family. Or maybe you just got the news that you are going to be a parent in nine months. A little one means a serious change in lifestyle, money flow and, possibly, body image. Below are some topics to think about before baby comes home.
Cha-Ching!
Having a baby is a wonderful occasion, getting a big bill you weren't expecting because you didn't do your research, isn't. Like other things in your future child's life, it is up to you to take control when it comes to the cost of having or adopting a baby. If you or your spouse has health insurance, call the company and get an estimate for prenatal care, delivery and postnatal care. If there are two parents with insurance, it pays to compare.
If your company has a human resources department, schedule a time to talk with them to get advice on how to mitigate the system, and get information about maternity leave and flextime. If you are uninsured, find out what your options are and create a budget.
It's a fact of life, babies come with lots of stuff. You can spend as little or as much as you'd like when it comes to bedding, strollers, bottles and other essentials. Remember, safety first, then consider lifestyle.
"Understanding priorities and lifestyle are key to keeping it simple," says Anna Vandiver of Itsa Belly in Charlotte. "Before creating any sort of budget to determine what's essential versus a luxury, new parents need to consider their lifestyle." For example you might think you need to spend money on a jogging stroller when the reality is you prefer leisure walks. Car seats should be purchased new, and getting the best you can afford is encouraged. Do your research online before you buy, read user reviews and be sure to visit the U.S. Consumer Product Safety Commission's site, www.cpsc.gov that offers product recall and safety information. You can review products certified by the Juvenile Product Manufactures Association online at www.JPMA.org.
Your Crib or Mine?
Sleep (or lack thereof) and babies go together like diapers and wipes. Decorating and planning the nursery is often a highlight – and great distraction – while the wait is on. The good news is you won't need those blankets, stuffed animals or other decorative accents in the crib for a while. A safe crib or bassinette, good mattress, tight-fitting sheet and a soothing environment are really all he or she will need for a while.
An effective storage system, and a place for parents and baby to feed and spend time together is essential. "Parents should plan to spend the bulk of their nursery budget on a crib," says Vandiver. "Comfortable seating is also a must have, and include a place to put up your feet – very important."
After a safe crib, the world is your oyster when it comes to decorating. From boutiques to big box stores to consignment shops, you can personalize and create a space as unique as your little one.
Green, as in saving the environment and keeping chemicals out of the house, is the hottest trend in nursery design, says Vandiver. "Environmentally-friendly products are making a big impact on nursery décor and everything else regarding babies," she says.
Back to 9 to 5?
Whether one parent will be staying home or returning to work, take a look at finances before taking a tour of the maternity center. Until you are in the day-to-day reality of parenthood, you don't know what emotions and personal feelings might come up. You could return to work and decide you have to stay home. Or, conversely, you may be home for a few months and want to go back to work.
Some parents may have no choice but to return to the workplace. For others the choice that a parent will stay home was made long before the plus sign appeared. No matter your decision – or indecision – you should visit your human resources specialist before you welcome your bundle of joy. He or she can let you in on what you can do before the baby arrives to make life as a growing family easier. Can you tack unused vacation days onto maternity leave? Is short-term disability an option while on leave? Can you ease back in part time?
For parents who want to continue on their career path, knowing your child will be well cared for by a nanny or day care goes a long way in making the transition a positive experience, but childcare is costly. Full-time day care costs range from $750-$1,200 a month, not to mention long waiting lists at most five-star facilities. Full-time, live-out nannies in Charlotte are paid between $400 and $700 weekly, and part-time nannies average $10-$16 an hour.
Baby on Board
As more women are waiting until later in life to start a family, being physically prepared for pregnancy is less about age and more about physical shape and wellness. No matter your age, a trip to your doctor before you start charting days and temps is a great way to start your conception and pregnancy journey, especially if you have pre-existing medical conditions or other concerns.
"If a woman is in the time of trying to get pregnant, she should speak with her medical provider about any vitamins or supplements. She would also begin or continue with a complete exercise program," says Katie Scharf, a certified personal and prenatal fitness trainer. Exercise helps alleviate some of the physical and emotional challenges that come with being the "mothership" for nine months, she adds. "The most obvious changes for women during pregnancy are the ones they feel the most," says Scharf. "Chronically out of breath, increased hunger and thirst, indigestion, acid reflux, constipation … the list goes on and on."
She reminds her clients it is never too late (or too early) to start getting in shape for baby. Again under the care of a doctor, Scharf encourages women to take advantage of all the relief exercise has to offer a quickly expanding body. "The overall benefits of exercise during pregnancy can include reduction in swelling, improved muscle tone and cardiovascular fitness, greater ability to cope with stress, maintain balance and means more energy and less tension and reduced anxiety and fatigue."
Whether your exciting baby adventure is around the corner or coming up soon, it's never too early to start educating yourself about the joys and challenges of parenthood.
Courtney McLaughlin is a freelance writer and editor and owner of Bella Communications, Inc. Mother of five-year old Isabella, she finds the work/life balance just as rewarding as it is challenging.