Seas The Day: 3 accessible beaches for families with special needs
North and South Carolina beaches with sensory-friendly activities and wheelchair-accessible amenities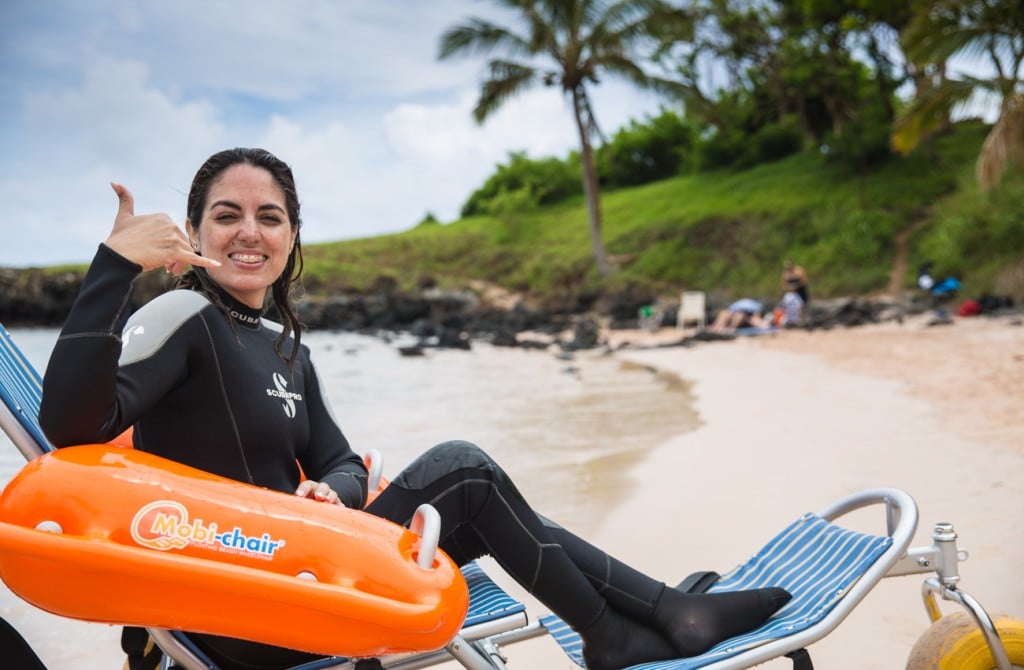 When our son Ben grew too large to be carried from his wheelchair to the beach, we wondered how we'd manage future trips to the shore. His favorite pastime is splashing at the ocean's edge, and we didn't want him to miss out. Once we learned about beach wheelchairs—a chair equipped with large, inflated wheels that can roll across the sand without sinking—we only chose beaches that had one available.
Many parents raising children with developmental delays and intellectual and physical disabilities may find a beach vacation tough to navigate. We found three beach towns along the Carolina coast with services and resources to assist families, and they're all less than a four-hour drive from Charlotte.
Five tips for planning your trip:
Ask about the waves and current. Before you decide on a destination, ask about the water. "Less tumultuous water may be easier for people with disabilities to access and enjoy, as opposed to choppy water and high waves," says Alvaro Silberstein, CEO and co-founder of Wheel the World, which helps people find and book accessible travel in more than 80 destinations.
Find accessible lodging close to an accessible beach. Longer distances between accommodations and the beach can complicate transportation logistics.
Seek out destinations with accessible water activities. Look for adaptive surfing, kayaking, and scuba diving. Nonprofits in the area may operate programs for visitors as well.
Rent or borrow a wheelchair specifically for navigating sand. Some towns offer free access to beach wheelchairs. "Understand which mobility device may be comfortable and best for a person with a disability," Silberstein says.
Call ahead to restaurants. Ask about peak hours, accessibility, and space for wheelchairs. Do they offer a private dining area for children who need quiet? Do they have the option to order an appetizer ahead of time to have it ready when you arrive?
Check out these three beach towns for families with special needs:
BEAUFORT, SC
Beaufort (pronounced BEW-fert) is a small walkable town on the Beaufort River. The Henry C. Chambers Waterfront Park has a paved path with views of the water and quick access to restaurants. The playground has accessible equipment and sensory-friendly activities.
Access
Hunting Island State Park has two Mobi-Mats (beach mats) and two beach wheelchairs available at no cost. Find them near the Hunting Island Camp Store and the Lighthouse Gift Shop.
Play
The Visitors Center, Nature Center, and the new Pier at Hunting Island all have ramp access. The Visitor Center's Virtual Lighthouse has a climb experience for people unable to make the climb on foot.
The Kazoo Factory is wheelchair accessible and allows therapy dogs inside. Let staff know if your child is sensitive to noise and they can skip the noisy part of the tour.
Port Royal Cypress Wetlands has an accessible boardwalk through the marshes.
Stay
The Beaufort Inn, Greyhound Flats, Best Western Sea Island Inn, City Loft Hotel, and Hilton Garden Inn all have handicap accessible rooms.
MYRTLE BEACH, SC
Champion Autism Network (CAN) named Surfside Beach and the City of Myrtle Beach Autism-Friendly Vacation Destinations, which means a number of attractions, hotels, and restaurants offer sensory-friendly experiences.
Access
Several area beaches offer beach wheelchairs at no cost on a first-come, first-served basis. Wheelchairs and Scooters of Myrtle Beach and Mobility Center also have beach wheelchairs for rent. Find more accessible local beaches here.
Play
Stay
Crown Reef Beach Resort and Waterpark and Landmark Resort both offer curbside check-in and check-out and rooms in quiet locations.
WILMINGTON, NC
In 2018, Cory Lee, the award-winning blogger behind Curb Free with Cory Lee, visited Wilmington and its beaches. Since 2013, Lee has shared his experiences traveling around the world in a wheelchair, and he found this pocket of coastal North Carolina to be extremely wheelchair-friendly. He was able to lounge on the beaches, tour the Carolina Beach boardwalk, and visit Britt Donut Shop.
Access
Carolina Beach, Kure Beach and Wrightsville Beach all have beach wheelchairs free of charge.
Carolina Beach has a seasonal wheelchair beach mat to help get wheelchairs closer to the ocean.
Play
Stay
Several hotels including Embassy Suites by Hilton Wilmington Riverfront and Hampton Inn & Suites Carolina Beach Oceanfront have fully accessible rooms with roll-in showers.
VANESSA INFANZON is a Charlotte-based writer and mom. Follow her on Instagram and Facebook @morethanVMI.