Savvy Style for Beach Days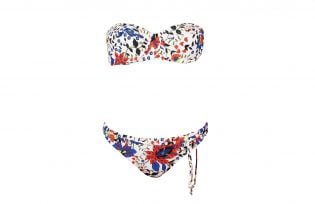 Suit up. Hourglass or athletic, apple or pear, you need a bathing suit that fits your body. The always dreaded swimsuit shopping just got easier thanks to SwimSpot. One-pieces, tankinis, bikinis, high-quality stylish designs, free shipping, free returns, on-site fitting specialists and fair prices. Shop online or visit a store. Whatever your swimsuit needs, SwimSpot's got it all.
Your very own carry-all. As parents, we carry way too many bags to count, and chances are we shove all of our personal belongings into the baby's bag or all the kids' beach gear in our bag. Where did I put my sunglasses and cell phone this time? Ladies, it's time to get your own beach bag, and while you're at it, treat yourself to something stylish and fun.
Spread out. Go ahead and splurge on an oversized towel sheet. I have far exceeded my return on investment in my generations-handed-down beach towel. It's time you get your own. Go ahead and monogram it too, just so there's no confusion.
Personal shade. A gorgeous glow is just that, but skin punished by the sun is not so gorgeous. Be sure you keep your most fantastic body part – your face – kindly covered. Grab your sunglasses and a chic hat, and don't forget the sunscreen.
Fuel. Other than an orange glow, nothing else is more undesirable in the hot summer sun than being hungry. As hard as it can sometimes be to stay away from the snack machine, plan ahead with nutritional snacks. Water, nuts, carrots, dried fruits and all things natural are best for filling your tank and the kids' in the hot summer sun.
Whitley Adkins Hamlin keeps it stylish as a mom with two children under 4. Read her blog at CharlotteParent.com/blogs.