SAT Prep Classes – Should You Pay?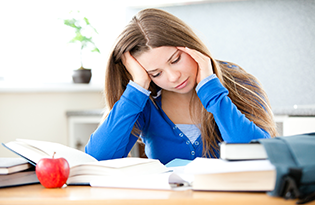 For those parents who didn't attend college or who mercifully have forgotten the application process, the scenario looks like this: students do the best that they can in school to achieve a high grade-point average (G.P.A.), and take on a range of extracurricular activities to make their interests seem well rounded, appealing, and diverse. Then they take a standardized test, usually the S.A.T., the trademarked test issued by the College Board (www.collegeboard.com).
Theoretically, the G.P.A., test scores and extracurricular activities are weighted equally (along with essays and letters of recommendation) when an applications department considers a student's opportunity to attend the college of her choice. However, though admissions counselors will deny it, often the G.P.A./S.A.T. score combo is the first hurdle in getting a student through the door. After that, it can be a deciding factor when choosing between two students.
Since a G.P.A. is a cumulative record of a student's achievement over his entire high school career, there isn't a lot he can do to alter this score if he suddenly discovers a desire to attend college after a less-than-stellar performance earlier in his high school years. The S.A.T., however, represents a single day of his life where he can change the course of his destiny or, at the very least, a single day of his life that can decide whether he will get into a more or less competitive university.
Most parents realize this. As a result, national S.A.T. prep courses are fairly common and their names are well known to many parents: The Princeton Review and Kaplan Test Prep are two brick-and-mortar test-prep companies. There are also a slew of online corporations that promise to raise scores, as well as many locally offered courses.
So what numbers are we talking about? If your daughter wants to attend U.N.C. at Chapel Hill, she'll need a combined math and critical reading score on the S.A.T. of approximately 1290. And if she wants to go Brown, she'll need about a hundred points higher. Schools like Harvard, Princeton and Yale won't post minimum required S.A.T. scores but they will discuss a cryptic range that they consider the minimum acceptable for their students.
Can S.A.T. test-prep courses give a student the edge he needs to score a 1290 or a 1390? How many points higher can an S.A.T. prep course guarantee? Do these courses really work or do they feed on the insecurities and desires of students and parents?
Ollie Polk, a 21-year teaching veteran from Charlotte with 12 years experience teaching a test prep course on the verbal (critical reading) component of the S.A.T., strongly believes that students, the right students, benefit from S.A.T. prep courses. Who has she seen do the best? "Those who benefit the most from it are the 'hungry' ones. They absorb all the strategies and are not afraid to take advice and give up old habits. Usually, these students are also the 'sharper, higher performing' ones who catch on quickly and are challenged to beat the system and win the game. However, another very successful group is made up of the very conscientious [students] who are structured and follow the rules. Even though they might be low to average English students, they love having guidelines to follow to the letter and they find that they work most of the time," says Polk.
Part of successful test taking means understanding that the test, in many ways, is a mental game. It requires knowledge, test-taking skills and stamina. And like most sports, Polk believes, it requires practice to become better, faster, and stronger. Students not willing to put in the time won't benefit much from prep courses. "The students who benefit the least are the undisciplined ones who want a 'quick fix' and are not willing to put in the time. Like a sport, practice makes perfect," says Polk. And Polk thinks that most students need a lot of practice.
Most academics agree that a student can prepare for the S.A.T. on his or her own.
There are plenty of online resources, library books and computer programs designed to boost S.A.T. scores by creating a realistic practice environment. These require a good deal of self-discipline and dedication, though. A prep course, unlike studying on one's own, creates a team of people to whom the student is accountable: a teacher who is examining a student's scores for improvement, a classroom of other students with the same goals (who may create a sense of competition), and parents who want to get their money's worth by seeing some level of improvement in scores. Polk also emphasizes the importance of having people working together towards a common dream. "The advantage of a course is to make it a pre-planned project.. Let's face it, we lose more weight if we have joined Weight Watchers and attend than if we say we'll do the diet on our own," says Polk.
As the students get better at certain components, or as sections of the test are questioned in their ability to predict future achievement, the creators of the test have made sure that the test itself evolves. Good test-prep companies are aware of these changes and shift their coursework accordingly. Polk agrees, "I also do some college consulting and I work constantly with our six college counselors to keep informed as things constantly change. For example, the new writing section and essay are highly controversial with admission offices right now and anyone teaching a course must keep up with it or they might lead parents and students astray."
How can parents determine if a test-prep course is for their daughter? Start with asking her to take a practice test and evaluating the scores. If she is already in the range for the school of her choice, she probably doesn't need a formal test-prep course. If her scores need a boost, she can consider her options: books, online tutorials, computer games or a test-prep course. If she decides on a structured course, the relevant questions to ask before handing over money are: how many points will this raise her score? How many years have you been teaching this? Does your program evolve as the test changes?
Ultimately, most students who really want to attend college find a school that will accept them and a program that is right for them. In the great scheme of things, the S.A.T. really isn't about a student's destiny. It's one day in his or her life.
Robin Whitsell