Santa's Bag: A Holiday Shopping Tradition for Kids
Take your kids find the perfect gifts for their family and friends -- without emptying their piggy bank.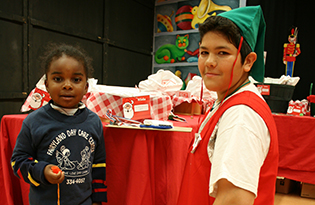 Ready for a break from holiday shopping? Give your kids a turn! Santa's Bag is a unique shopping experience that gives children ages 3-12 the opportunity to find the perfect gifts for their family and friends without emptying their whole piggy bank.
A holiday tradition that started over 45 years ago at the Children's Theatre of Charlotte, Santa's Bag now hosts more than 1,500 young shoppers each year who are paired with an elf who takes each child though the "shop" to find a special present for everyone on their list. Gifts may include a necklace for mom, a fun pen for dad, and small toys for siblings and friends.
The event is a community service effort led by the theater's ENCORE! volunteers. Preparation begins in the summer, and hundreds of volunteers take part to make this magical holiday experience. The week of the event, adults and high-school student volunteers dress in red and green to transform themselves into the elves that each child is paired with during the shopping experience.
All gifts are pre-wrapped and priced between 50 cents and $6. Children are encouraged to bring a list with them and share their budget with the shopping elf. Santa is also there too to keep watch over his friendly helpers and take pictures with children passing through, so remember to bring your camera.
The ENCORE boutique is open for tweens, teens and parents who to shop while the younger ones buy gifts with the help of an elf. Gifts are from local vendors and purchases support Children's Theatre. (Anyone is welcome to shop at ENCORE boutique even if not shopping at Santa's Bag).
---
Santa's Bag takes place at ImaginOn, 300 E. Seventh Street. Shopping is open to the public Nov. 28-Nov. 30, 9 a.m.-11:30 a.m. and 4:30 to 7 p.m.; and Dec. 1, 10 a.m. to 2 p.m. (or until inventory is sold out). It is free to attend, and cash, check, Mastercard or Visa can be used to purchase gifts. All money raised helps support Children's Theatre programming.