Safe Sleep with Infants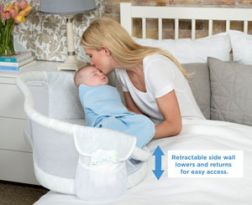 There is a lot of debate on the safety of bed sharing with your infant. According to the New York Times, there has been a 400% increase in the number of infant strangulations and suffocations over the last 20 years and it has been attributed to more parents opting to share their bed with their infant. Many reasons are cited for sharing their bed, such as better bonding, ease of breast feeding, and simply from falling asleep while the baby was in bed.
A new product, the Bassinest, has been introduced which can protect against the dangers while still allowing the parents to enjoy the benefits of bonding and ease in breast feeding. It features a patented, dual swivel design that allows the infant to remain at eye level and within reach but safely in its own sleep environment. It also has a timer to let you know to switch sides or return the baby to the sleep space if you fall back to sleep during midnight feedings. The convenience and location of the baby is immensely helpful for the moms delivering by cesaerian section since it reduces the amount of movement during healing.


It is designed for babies from birth to 30 pounds and will be available for purchase mid-2014. 
Where do you stand on the issue of co-sleeping? Have you done it successfully or has it been a problem? Share your story!
Barbara Green is the owner of Sensibly Chic Designs for Life, located at 830 Lamar Avenue in the Plaza Midwood section of Charlotte. She is the host of Ask the Design Diva and  believes you can have it all: kids, pets, and a beautiful home.