Room We Love: A Tween Bonus Room
Designer Jacy Painter Kelly creates a mature, transitional space for two growing girls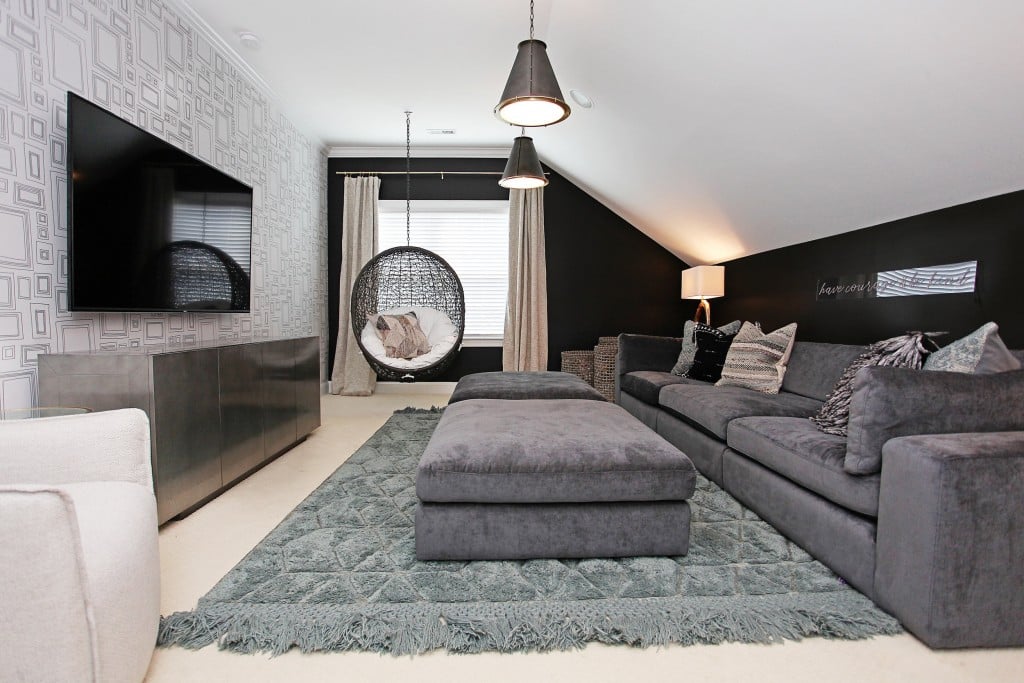 Designer Jacy Painter Kelly's clients lived in their Fort Mill, S.C., for a year before they hired her to dress up the bare interior. Kelly describes the new build as "farmhouse traditional," and the homeowner wanted a light, clean aesthetic throughout the dining room, bedrooms, and back porch. But when it came to the girls' bonus room, Kelly stepped away from her neutral palette and opted for black walls, patterned wallpaper, and bold turquoise accents to create a room the two girls, ages 9 and 11, could grow into.
Designate the Space
Before the transformation, the room didn't have a real purpose; it had become a drop zone for Barbies and craft supplies. The homeowner wanted a fun, inviting space that the girls could grow into, but she was hesitant about any bold colors. "When I told her I wanted to put black walls in, she was like, 'Wait, what?'," Kelly recalls. "Luckily she's a very trusting client."
The Dark Side
To keep the room from feeling too dark, Kelly left the vaulted ceiling white and covered an accent wall in black and white patterned wallpaper from Graham and Brown. She swapped out the recessed lighting with three black pendant lights from Regina Andrew and furnished the space with pieces from Four Hands Furniture. The turquoise rug and textured pillows from Loloi add some visual interest to the room.
Hang Ten
For something fun and unexpected, Kelly installed a hanging chair from Modway. "It tied it all together really well in a fun way," she says. "It gives you a cozy, yet edgy vibe but nothing too crazy." She added a custom sign above the couch that reads, "have courage and be kind," but left plenty of room for the girls to hang up their artwork and make it their own. "If they decide they hate turquoise, it's easy to draw pink in. This is all really easy to change out down the road."