Room We Love: A Cool Girl's Bedroom
Jacy Painter Kelly Interiors transforms a room in a Fort Mill home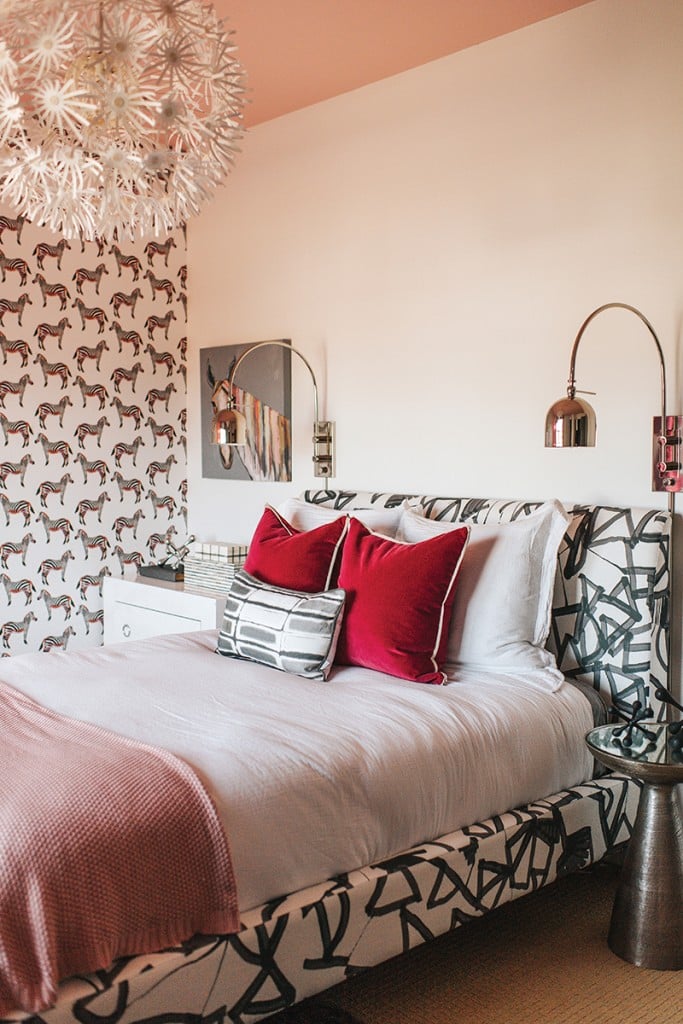 Last summer, designer Jacy Painter Kelly, owner of Jacy Painter Kelly Interiors, took her family on a trip to New York City. Her 10-year-old daughter, Lucy, went crazy for the urban vibe of their downtown hotel room. It gave Lucy the itch to make over her own bedroom in their Fort Mill home. She wanted more mature accents, like silver wall sconces and velvet pillows, paired with punk rock elements like a graffiti-inspired bedframe and pink neon sign. Luckily, her designer mom knew exactly how to tie it all together.
Statement Pieces
For the bed, Jacy wanted a funky statement piece, so she had West Elm create a custom upholstered bedframe in a black-and-white, graffiti-inspired pattern. Hanging above the bed is a round pendant light covered in white paper flowers, and, underneath it, a charcoal shag rug.
Funky Colors
Jacy wanted to keep the bedroom's walls white to match the rest of her custom-built, 3,400-square-foot Dutch Colonial home. So she painted the ceiling pink for an unexpected touch and let Lucy choose the zebra patterned wallpaper for an accent wall. The pink shag butterfly chair and neon "girls do it better" sign helped achieve the fun, edgy aesthetic, and the pink velvet pillows and drapes added bold pops of color.
Room to Grow
Lucy insisted on keeping the light fixture, which they found at Ikea when she was two years old. Otherwise, nothing about the room gives off a "little girl" vibe anymore. "Before, she didn't have a room she could grow into," Jacy says. "Now she can ride this out a bit more."