Rolled Paper Recyclo-Vase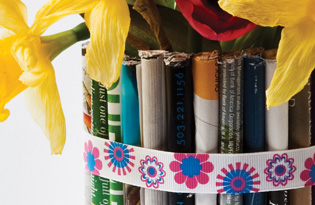 Magazines, brochures, and catalogs that clog your mailbox can live a second life as colorful new flower vase with a fresh bouquet of flowers for Mother's Day.
You Need:
-sheets of magaazine, brochure, or catalog paper
-sissors
-wooden skewer or other long cylindrical object
-glue
-empty coffee or soup can, cleaned and dried
-colorful ribbon or fabric strips
How to Do it:
1. Cut a sheet of paper to be a little bit taller than your can. Place the wooden skewer along the long edge of the paper, then roll the paper tightly around it. When you near the end of the paper, apply a thin line of glue along the edge and press down to secure. Allow the glue to set, and then remove the skewer. Keep making paper rolls until you have enough to decorate your entire can.
2. Glue the paper rolls to the outside of the can until the entire can is covered. Wrap a few pieces of ribbon or fabric strips around the vase and glue in place. When the glue is dry, just add water and flowers and, ta-dah!, you have the perfect eco-friendly centerpiece for any table or nightstand.
— Excerpted from "Recyclo-Gami" by Laurie Goldrich Wolf. Find 40 ways to upcycle your trash into craft treasures in Wolf's book.