Remodeling with Kids In Mind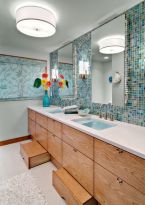 If your home is screaming for a remodel, make sure you keep kids in mind when your plans are being created. There are so many ways a simple improvement can make life with kids easier, neater, and just more fun. This bathroom to the left is just one example. Instead of wasting the space where the toe-kick is, have pull out stools built beneath the sink instead. They are safer, since being attached they won't slip out from under your child and they look better because they disappear when not in use. Another kid-friendly aspect of this bathroom is the tile all the way up the wall. No matter how much splashing goes on, your walls will be protected.
Another popular kid-friendly remodel is adding a window seat to your child's bedroom. It is a very easy addition, can be surrounded with built-in bookshelves, and be an inviting place to play or read. The extra storage and shelving helps your child keep the room more orderly. Bonus!
If it is the attic you're thinking of remodeling, consider dedicating one corner of it to cultivating your child's artisitc fantasies. Whether they dream of dancing at Lincoln Center, performing on Broadway, or just having fun playing with friends, they are sure to love their own personal stage. Be sure to include storage for costumes and props so the area doesn't end up looking like disaster area! It This is a very low cost addition whose value will far outweigh the expense.
If you are looking for more interesting ways to remodel your home, come visit the Charlotte Build, Remodel, and Landscape Show. It is this Friday, Saturday, and Sunday January 10, 11, and 12 at the Charlotte Convention Center. I'll be giving a presentation on Design Trends for 2014 at 2pm both Saturday and Sunday. Come check it out!
Barbara Green is the owner of Sensibly Chic Designs for LIfe located at 830 Lamar Ave, Charlotte NC and host of Ask the Design Diva radio show. She believes you can have it all, kids, pets, and a beautiful home!