Reindeer Halloween Costume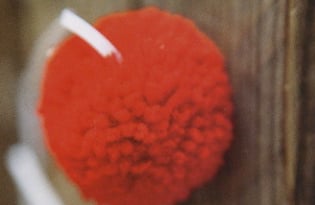 You will need:
– 8×6 1/4in (20x16cm) beige felt and matching embroidery floss
– 8×6 1/4in (20x16cm) batting (wadding)
– Brown hooded top
– Pair of brown gloves and matching embroidery floss
– Fiberfill (stuffing)
– Cardboard
– Red yarn
– 18in (45cm) elastic
– Brown leggings (to complete costume)
For patterns and more detailed instructions, pick up the book "Cute and Easy Costumes for Kids: 35 Fun Dressing Up Ideas for Children" by Emma Hardy (CICO Books, July 2010, $19.95), which features 35 ideas for easy-to-make Halloween costumes.
1 Using pattern piece 9, cut out a tummy piece from beige felt. Also cut out a piece of batting (wadding), making it 1/2in (1cm) smaller all the way around. Lay the batting on the right side of the front of the hooded top and pin the felt over it, pinning it to the front only. Hand sew the felt to the front around the edge using running stitch and beige embroidery floss. Start and finish with a knot in the floss on the wrong side of the front.
2 To make the antlers, stuff the gloves with small pieces of fiberfill (stuffing), making sure that there are no lumps and bumps. When the gloves are full, hand sew them onto the hood of the top with running stitch, sewing slightly in from the bottom edge of each glove, using brown embroidery floss. Start and finish with a few small stitches to hold the floss in place, and before you have quite finished check that the antlers stand upright. If they seem a little floppy, stuff the base of each antler with a little more fiberfill.
3 To make the pompom nose, cut out two 2 3/4in (7cm) circles of cardboard. From each, cut out a 3/4in (2cm) central hole. Place the two shapes on top of each other and wrap red yarn around them, pushing it through the central hole. Continue to wrap yarn around the cardboard until the central hole is full. Carefully snip around the outside, slipping the blade of the scissors between the two layers of cardboard.
4 Thread the elastic through the middle of the pompom. Tie a 12in (30cm) length of yarn around the pompom between the two cardboard layers, pulling it firmly and tying a double knot. Cut the cardboard off and trim the pompom neatly. Adjust the fit on the child's head, and tie the ends of the elastic in a knot.