RECIPE: Vanilla Cake With "What The Fries" Teal Marble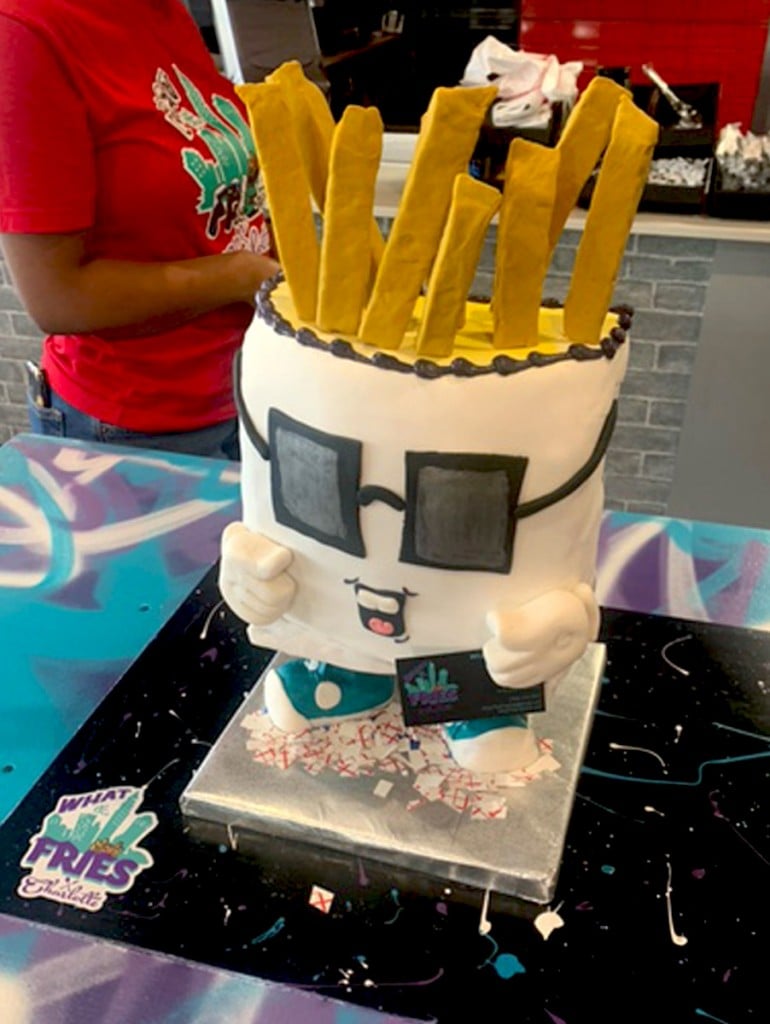 When the What the Fries team celebrated the grand opening of their first storefront last month, co-owner Jamie Barnes' 9-year-old daughter Lily wanted to make a cake to surprise her dad. She enlisted the help of expert pastry chef (and 2021 BOB award winner) Jamie Turner to help her make this delicious vanilla cake with What the Fries' signature teal marble. They've shared the cake recipe for you to make at home; building the French fry caricature with fondant and frosting is probably best left to a professional.
Yield: Three 9-inch layers
Prep Time: 35 min
Cook Time: 20 min
Total Time: 55 min
Ingredients:
4 cups all purpose flour
4 tablespoons cornstarch
¾ teaspoons baking soda
2¼ teaspoons baking powder
1½ teaspoons salt
2¼ cups granulated sugar
½ cup vegetable oil
1 cup unsalted butter, softened
3 tablespoons vanilla
3 eggs
3 yolks
2¼ cups buttermilk, room temperature
Directions:
Sift together flours, cornstarch, baking soda, baking powder, and salt. Set aside
Spray three 9-inch cake pans and line the bottom with 9-inch parchment paper circles
In a large bowl of electric mixer with whisk attachment, whip together sugar, vegetable oil, butter, and vanilla. Whip well at high speed until white in color, light and fluffy.
Beat in the eggs one at a time, then beat in egg yolks.
Fold in dry ingredients alternately with the buttermilk, beginning and ending with dry ingredients. Do not over-mix batter. As soon as lumps no longer remain, batter is ready.
Separate out 2 cups of batter into a separate bowl, add teal gel color until desired color is reached. Using a piping bag or food storage bag with the tip cut off, distribute teal batter over vanilla cakes in pans. Use a toothpick or knife tip to create a swirl pattern.
Bake at 325 degrees for 20 min, rotating 10 minutes through to ensure even baking. Continue baking for 10 remaining minutes, until a toothpick inserted in the center comes out clean.
Cool for 10 minutes before removing from pans and removing parchment from the bottom of each layer.
For best results, chill before layering and frosting with your favorite icing!