RECIPE: Spinach Cheddar Scones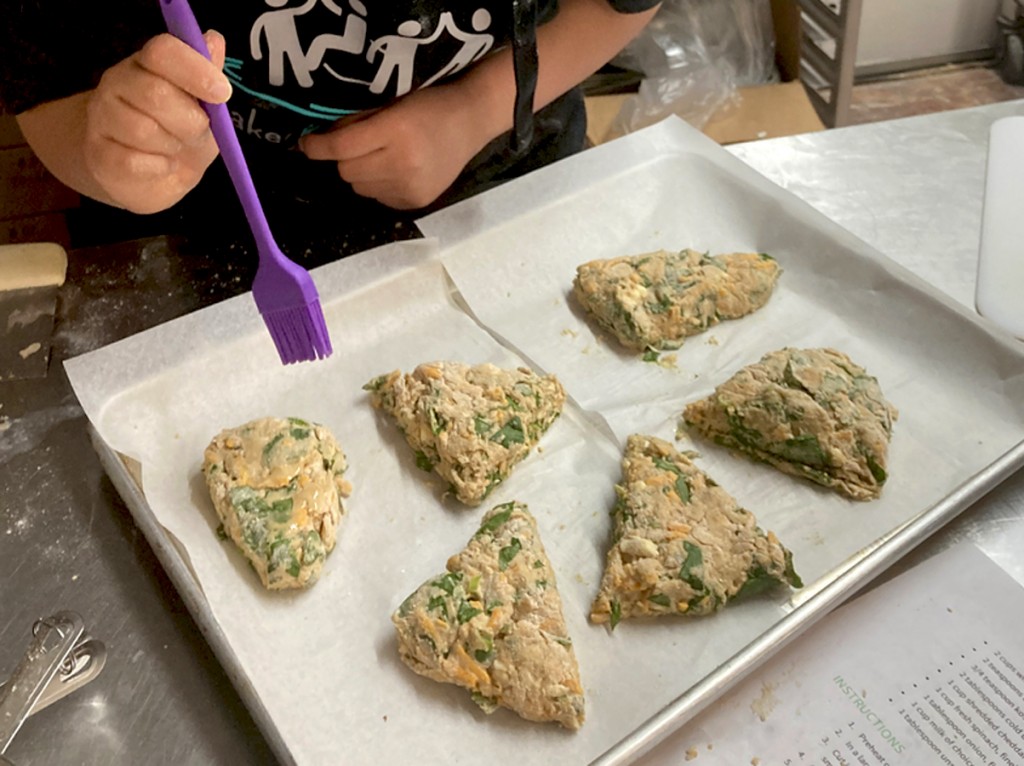 Renee Ratcliffe and her husband John founded Cakeable Charlotte in 2019 to offer baking classes and job skills training for students who have different abilities. They fund their classes with donations and proceeds from bake sales, pop-up sales, and their post at the Kings Drive Farmers Market. Visit them on Saturdays during market season (April – October) or follow them on Facebook to see where you can find our delicious baked goods. Below, Renee shares Cakeable Charlotte's recipe for spinach cheddar scones, adapted from Family Food on the Table.
INGREDIENTS
2 cups white whole wheat flour (we use King Arthur White Whole Wheat Flour but all-purpose flour or whole wheat flour works too)
2 tsp baking powder
3/4 tsp salt
2 Tbsp cold unsalted butter, cut in small pieces
1 cup shredded sharp cheddar cheese
1 cup fresh baby spinach, stems removed and finely chopped
1 Tbsp onion, finely chopped or grated (we use a green onion. Chives would work as well)
1 cup milk of choice (we use whole, but 2%, 1%, or skim are fine too)
1 Tbsp unsalted butter, melted
Coarse sea salt, optional
DIRECTIONS
Preheat oven to 425°F. Line a baking sheet with parchment paper and set aside.
In a large bowl, combine flour, baking powder and salt and stir to mix well.
Cut in butter using a pastry cutter or two knives, until the mixture resembles small peas.
Add cheese, spinach, onion and milk and stir until just combined.
Turn the dough out onto the baking sheet/parchment paper and use your (floured) hands to shape it into a large round disk, about 1 inch thick and 8 inches in diameter.
Cut into 6 or 8 even wedges, depending on how large you want your scones to be.
Brush the top of each scone with melted butter. Sprinkle with sea salt if using.
Bake at 425°F for 14-16 minutes, until scones are light golden brown.