RECIPE: Pumpkin Cheesecake Brownies from Roots Catering
A recipe your children can help with during the holidays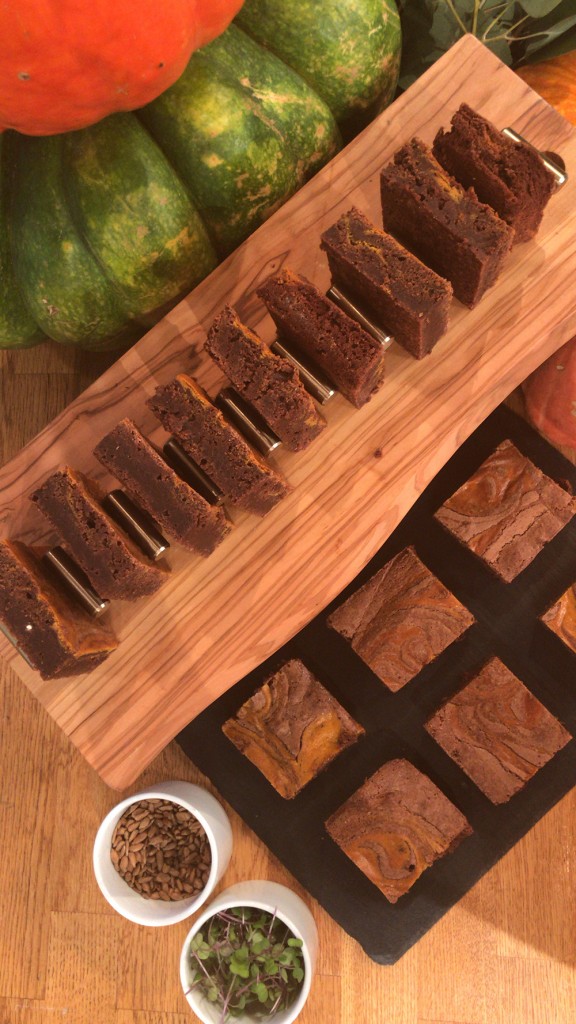 "These brownies combine the comfort of chocolate with the indulgence of cheesecake, and the warmth of fall spices to give you the perfect Autumn treat," says Craig Barbour, executive chef and owner of Roots Catering. "I love this recipe because these brownies look so interesting and appetizing and it is so simple."
Kids will love this recipe too, because they can help. Once you've put the brownie mix in the pan, let your kids can make the swirl design with the pumpkin cheesecake batter. They can use their fingers and get messy, or use the handle of a wooden spoon or a toothpick to create unique designs. You can even put the pumpkin cheesecake mixture into a piping bag or ziploc bag with the corner cut off and let your little ones write their name in the batter.
Pumpkin Cheesecake Brownies
Makes 1 large cookie sheet
Brownie Recipe:
INGREDIENTS
2 sticks (1 cup) melted butter
1 1/2 cups flour
1/3 cup cocoa
1/2 teaspoon salt
4 oz semi sweet chocolate
2 cups sugar
4 eggs
PREPARATION:
Step 1
Prepare 1/4 sheet pan with foil and butter.
Step 2
Whisk flour, cocoa, and salt in a bowl. Melt butter and chocolate over medium heat.
Step 3
Let chocolate butter mixture cool down. Stir sugar and eggs into chocolate, then add dry ingredients until combined.
Step 4
Pour into prepared sheet pan, and drizzle pumpkin swirl on top (see below for pumpkin swirl recipe). Use a toothpick to swirl the mixture and create any kind of design you want.
Step 5
Bake at 350 degrees for 30 to 35 minutes.
Pumpkin Swirl Recipe:
INGREDIENTS:
3 oz cream cheese, softened
1/2 cup pumpkin puree
1 egg
3 tablespoons sugar
1 teaspoon cinnamon
1/4 teaspoon nutmeg
PREPARATION:
Step 1
Cream the cream cheese and sugar until smooth.
Step 2
Add the pumpkin puree to cream cheese and sugar mixture, then the egg.
Step 3
Add the spices and mix to combine.