RECIPE: Joanna Reule's Roasted Tomato Soup with Golden Broth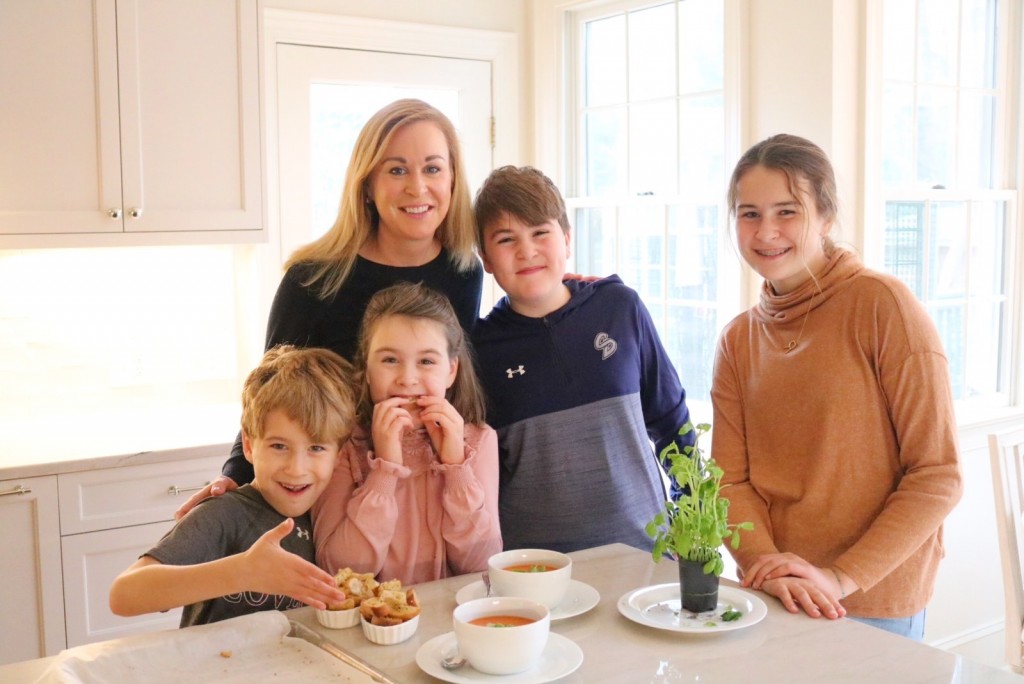 Brave Broth founder Joanna Reule's popular bone broths can improve everything from digestion to sleep. The mom of four often uses her broths to make soup at home for her children: Reese, 13, David, 11, Hannah, 9, and John, 7. "Using homemade stock in your soups elevates the flavor and adds so many important nutrients," she says. "My grandmother 'Oma' was the one who taught me this secret. She taught me to never throw away a leftover chicken or turkey carcass, but instead, wrap, and freeze the bones to use for stock making."
Reule says roasting the tomatoes is the key to this tomato soup, and suggests using Golden Broth as your chicken stock. If you have a big family like she does you can double this recipe, which means using two jars (four cups) of Golden Broth. For garnish, she likes to add homemade croutons that she makes with leftover bread or baguette. Just toss your cubed bread with garlic powder, cracked pepper, and olive oil and brown for 10 minutes at 375 degrees. "We definitely 'sell out' whenever we make soup with my bone broth," Reule says, "especially this tomato soup; there's never a drop left."—Taylor Bowler
INGREDIENTS:
9 roma tomatoes sliced lengthwise
3 tablespoons extra virgin olive oil
2 tablespoons unsalted butter
1 yellow onion diced
4 garlic gloves minced
1 teaspoon kosher salt
1/2 teaspoons ground black pepper
1 28 oz. crushed tomatoes
1 cup fresh basil, roughly choppped
1 tablespoon sugar
2 cups Golden Broth
1/3 cup heavy cream
DIRECTIONS:
Preheat oven to 375 degrees
Spread tomato halves on a baking sheet. Drizzle with olive oil, and then sprinkle with salt and black pepper.
Roast tomatoes for 1 hour. Remove from oven and set aside.
Heat 2 tablespoons oil or butter in a Dutch oven or large pot over medium-high heat
Add onion, and saute for about 5 minutes.
Stir in garlic, thyme, salt, and pepper. Sautee for another minute.
Add crushed tomatoes, basil, and sugar to the pot. Lower the heat and simmer for about 10 minutes.
Add the Golden Broth and the roasted tomatoes into the pot. Simmer for 30 minutes, stirring every now and then.
Use an immersion blender to puree the soup, or very carefully transfer to a blender or food processor to puree, then return soup to the pot.
Stir in the cream.
Top with croutons if you wish and enjoy!