Recipe: Green Lasagna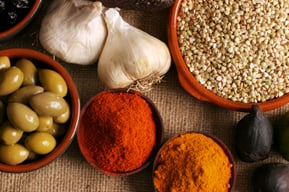 NEAT EATS
Green Lasagna
The pluses to this recipe are boundless. Lending itself to bulk preparation, and then storage in the freezer, this variation of lasagna is healthy (the green comes from spinach), with some easy preparation, followed by brief sautéing and quick assembly. Additionally, should the little ones not have a particular liking for ground beef, the recipe works equally well with turkey.
A béchamel sauce (flour/butter/milk) also forms part of this recipe and requires some continuous whisking of the flour/butter mixture while you add the hot milk. It is easy, but requires a little patience. If you dump the milk in too quickly, you will end up with lumps, so go slowly. A thick, creamy consistency is the desired result. Happy whisking!
Green Lasagna
Servings 8
• 3/4 lb. ground beef, lean (or turkey)
• 1 onion, medium, chopped
• 1 Tbsp. olive oil
• 1 clove garlic, large, minced
• 1 28 oz. can tomatoes, Italian
• 2 Tbsp. basil, dried
• 1/2 tsp. oregano, dried
• 1 tsp. sugar
• salt and pepper to taste
• 6 Tbsp. butter
• 4 Tbsp. flour
• 3 cups milk
• 1/2 lb. lasagna noodles, spinach, cooked
• 1-1/3 cups Parmesan cheese, grated
• 2 Tbsp. butter, dot on top
• 2 8-by-8-inch aluminum tins
Meat sauce: Sauté ground beef with onions for 10 minutes (if using ground beef, do not use olive oil and drain off meat fat after sautéing; if using turkey, use 1 tbsp. olive oil to sauté and do not drain). Add garlic and cook for two minutes. Drain and chop tomatoes, reserving juice. Add tomatoes, juice, and herbs to meat. Bring to a boil and cook until some of the liquid evaporates, about 5 minutes. Then add sugar. Season to taste with salt and pepper. Set aside until needed.
Bechamel sauce: melt butter in large saucepan. Stir in flour and cook for two minutes without browning. Heat milk and slowly add to flour/butter mixture, whisking constantly until thickened and smooth (about the consistency of thick cream). Season to taste with salt and pepper.
Assembly instructions:
Spread a small amount of tomato sauce on bottom of two 8-by-8-inch aluminum tins. Layer noodles. Cover with more tomato sauce and some of the béchamel sauce. Sprinkle with some Parmesan. Continue layering and end with layer of noodles. Spread top with remaining béchamel sauce, dot with butter and sprinkle with the rest of the Parmesan. Cover tins with heavy-duty foil and store in freezer.