Reality Check: Tamatha Jackson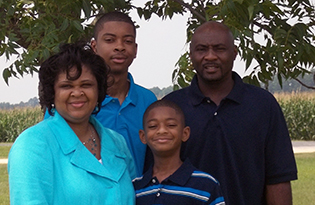 Take a peek inside the life of local mom Tamatha Jackson and get a glimpse of everyday parenting – from the madness to the mess-ups!
Vital Stats: Tamatha Jackson 39
Instructional Assistant at Idlewild Elementary, 2011 CMS Teacher Assistant of the Year, member of N.C. Association of Teacher Assistants, and cheer/step coach for Right Moves For Youth.
Family Tree:
Married to husband Ronald, and mom to MJ, 16, and Jordan, 10, as well as stepson Dyshawn, who lives out of town. The family lives in Southeast Charlotte.
Get Real:
My boys are involved with a lot of activities in school and church, and sometimes I don't know if I'm coming or going. I take them to soccer, scouting, basketball and friends' houses, but at least I know where they are, who they are with and what they are doing. I am a firm believer in having your child be exposed to community and school activities.
"Don't You Dare":
My teen is constantly testing his boundaries. While I understand teens go through phases, I maintain discipline so things will not get out of hand,  and he will become a great adult.
Parenting Rule #1:
Say what you mean and mean what you say. Reinforce the positive to keep a child growing and developing within certain boundaries. I have learned I must follow through on everything I say. When I give MJ and Jordan a consequence and follow through, it usually brings that action to an end. If I don't follow through, the behavior happens again.
Fave Phrase:
"Clean your room!" I am starting to sound like a broken record. My children know they should clean their room, but they like to hear my lovely voice.
Top Tip:
Remember, parents are role models. Children learn more by example; so words and, more important, actions are extremely influential in their development.