Read, Learn, Explore with Charlotte Mecklenburg Library's Summer Break Program
Earn incentives, including tickets to Carowinds, by participating in the annual reading program.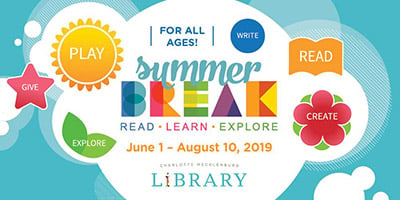 Summer is quickly approaching and what better way to help students avoid the summer slide and loss of academic skills than by participating in the Charlotte Mecklenburg Library's annual Summer Break program. Not only is this an opportunity to encourage children to keep reading this summer by completing fun learning activities and earning incentives, but it is truly an event that can engage the entire family in reading as well.
To keep brains active, participants of all ages — children, teens and adults — are encouraged to read at least 20 minutes per day. This can be quiet reading or children can practice their reading skills by reading aloud to family members or friends.
Getting Started is Easy
Beginning May 20, preregister and set up accounts at summerbreak.cmlibrary.org (Note: any registrations prior to May 20 will not be recorded for the 2019 program). Families can register together, making it easy to log reading time and learning activities all in one place. Receive a free Wendy's Jr. Frosty and a $5 fine waiver card just for signing up.
Beginning June 1, start tracking your reading and learning activities, and log them into the website through Aug. 10. To complete the program and receive a free book, participants must log at least 10 reading hours and complete 10 learning activities OR log 20 reading hours.
The library has also partnered again this summer with Carowinds for the Summer Break program. Participants who complete the program AND log reading or activities 10 out of 10 weeks are eligible for one free ticket to Carowinds while supplies last. Awarded Carowinds tickets are valid through the end of the 2019 season.
Looking for Inspiration?
The Summer Break website is filled with book lists for readers of all ages, exciting programs and events happening at locations near you and an abundance of reading, writing, creating, exploring, playing and giving activity ideas that you can log to your Summer Break account.
Following are a few book suggestions to get you started and excited for summer.
Mouse's First Summer by Lauren Thompson
Ages: Toddler/Preschool
Join Mouse as he experiences some of the joys of summer for the first time – from eating watermelon and flying a kite to watching fireworks in the night sky. This is a book filled with fun words that will certainly be new for your little one. It presents a great opportunity to work together to create kid-friendly definitions as well as help build the vocabulary skills necessary for those starting preschool in the fall.
---
How to Code a Sandcastle by Josh Funk
Ages: Early Elementary
Pearl and her trusty rust-proof robot, Pascal, need to build a sandcastle before summer vacation is over, and they're going to do it using code! Brought to you by the nonprofit computer organization Girls Who Code, this book mixes literary and STEAM elements to create a fun, engaging summer story and an exciting introduction to coding concepts that are sure to inspire every budding programmer.
---
The Book Scavenger by Jennifer Chambliss Bertman
Ages: Upper Elementary
Just after 12-year-old Emily and her family move to San Francisco, she teams up with new friend James to follow clues in an odd book they find, hoping to figure out its secrets before the men who attacked Emily's hero, publisher Garrison Griswold, solve the mystery or come after the friends. With various puzzles, ciphers and engaging mysteries, this excellent book will keep young brains active over the summer. There is also a "Book Scavenger" website filled with extension activities, bonus material and information about hiding and finding books of your own! This is the first book in a three-part series, all of which are certain to turn your elementary school student into a reader and puzzle master!
---
Make sure to check Charlotte Mecklenburg Library's calendar to find Summer Break kickoff and programming events throughout the summer at a location near you. Participation at these events is also considered learning activities, so don't forget to log them after you attend!