Re-Made Shade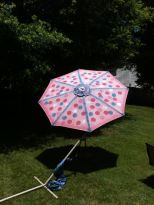 Remember my last post about getting the deck done faster by inviting Amelia to help? Well…one project led to another. Now that the deck is done, our sun-faded patio umbrella looks SOOOO much worse in comparison.  But of course, it works perfectly well and other than the fading there is no reason to replace it.
Instead, we restored it. I didn't expect this to be as simple or successful as it was, and at first I didn't know whether Amelia could help. A quick google search revealed that it's very easy to remove the fabric cover, simply by unscrewing the cap at the top and then slipping the frame from the pockets around the perimeter. This completely frees the fabric, which can probably go in the washing machine, not that we tried. Once the fabric is off, you can clearly see the amount of fading by comparing the underside with the top of the umbrella.  I think it would be pretty simple, with minimal sewing, to flip the fabric upside down and put it back on with the unfaded side up, but this would have been far less fun for Amelia, and less messy for all of us!
So instead, we painted it. We used leftover interior/exterior spray paint, which dries quickly and applies easily. A tin can, open at both ends, served as a stencil and we sprayed the paint inside the can to make consistently sized circles all over the umbrella. Then we added a little more non-circular embellishment, let it dry, put it back on the frame and voila – a one-of-a-kind, colorful, custom patio umbrella, for FREE!
A few tips:
• It's unhealthy to inhale spray paint, so closely supervise children, and only do this with kids who are old enough and strong enough to understand how to use the can safely and properly. 
• Always use spray paint outdoors.Take the umbrella out of the table before removing the cover. Seriously, you'll be glad you did!
• Wear old clothes, and make sure children do too. Spray paint stains do NOT wash out easily.
• Try to do this on a day that isn't windy, and hold the spray can close to the umbrella to minimize the amount of paint that blows away.
• The can stencil worked well, I wish we'd tried a variety of different sizes and shapes – using boxes, cookie cutters, or other household items that provide a rigid shape. Remember that whatever you use as a stencil will end up permanently coated in paint.
Want more Mess? Visit Melanie's blog, or drop by her Etsy store, Made by Mommy!