Raspberry Cream Cheese Heart Tarts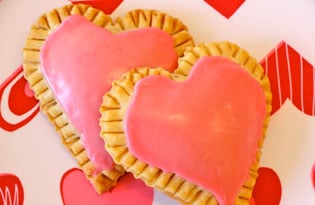 These delicious tarts are guaranteed to please everyone. The icing has been made from raspberry juice, not artificial red food coloring. Makes 10-11.
1/2 cup raspberries
1/4 cup whipped cream cheese*
1 tablespoon honey
1 double pie crust recipe or one 14-ounce pre-made pie crust (such as a Pillsbury pie crust)
Water
1 1/2 cup powdered sugar
10 raspberries for icing or 2 tablespoons juiced raspberries
1 tablespoon milk or water
1. Preheat oven to 400 degrees.
2. Place the raspberries and cream cheese in a bowl. Using the back of a fork, mash the raspberries with the cream cheese, leaving some pieces.
3. Roll the pie crust ¼-inch thick and using a heart shaped cookie cutter, cut out hearts. (If you are using packaged pie crust just unroll and cut out shapes.)
4. Place one heart on a lightly floured work surface and top with 2 teaspoons of the cream cheese mixture in the very center, leaving a ¼-inch border around the cut-out.
5. Lightly dip your index finger into a cup of water and "brush" the border.
6. Top with another heart, take the tines of a fork and gently press down the edges to adhere (so the cream cheese mixture stays inside the heart pocket). With a toothpick, poke holes at the top of the heart to remove air pockets.
7. Place on a parchment or Silpat-lined baking sheet and bake for 20 minutes or until golden.
8. While the hearts bake, place 10 raspberries in a strainer and press down to release raspberry juice into a bowl. You should produce about 2 tablespoons of juice.
9. Whisk in the milk and slowly pour in the powdered sugar and stir to make icing.
10. Take a fork and drizzle the raspberry icing over the hearts.
11. Serve.
*You may also fill the tarts with 2 teaspoons of Nutella.
Catherine McCord channels her biggest passion – cooking easy, healthy food – into a website for parents, Weelicious.com, where she posts recipes, tips and cooking videos for parents.