Raising Backyard Chickens: What You Need to Know
The challenges and joys of keeping a backyard flock.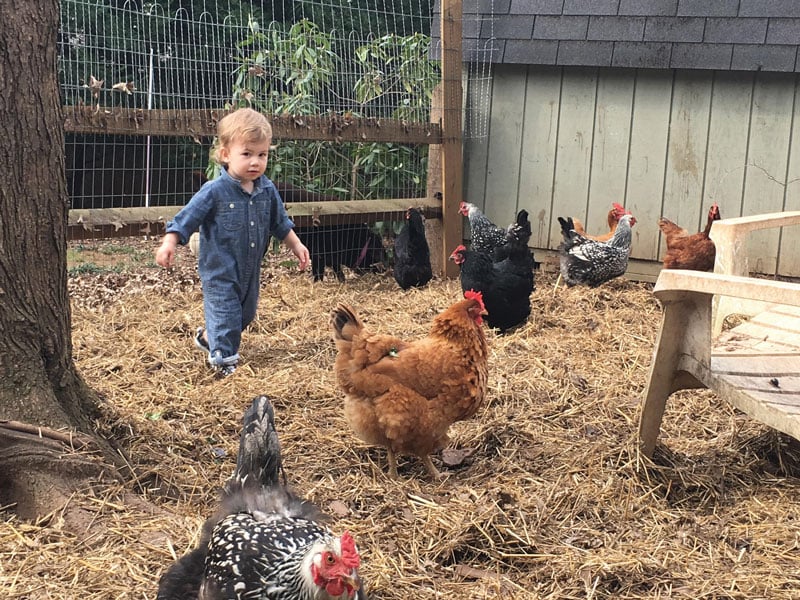 It started out innocently enough: Jennifer Webster wanted to ease her daughter's anxiety about moving to a new home. So she played up one of the most exciting features of their new house — a new, big backyard to play in — and mentioned a perk she didn't expect her daughter to latch onto. "We talked about things that could be exciting," Webster says. "Getting an animal. Or some chickens."
Fast-forward a few months, and she was planning her daughter's fifth birthday party. It was Wynnie's first sleepover. The theme? Chickens.
"It was a chicken party! We had the coop delivered with chickens a few days before," says Webster. "Her friends loved it. They still come over and want to get inside the coop and let them out and try to catch them."
---
Why Have Chickens? It's More Than Just the Eggs
Several years have passed since the Websters got their first chickens, but they're more devoted to their flock than ever. They're even planning to add to their flock this spring.
"What I love most is having the eggs," Webster says. "There's definitely a huge difference in the flavor and also the color of them [in comparison to store-bought eggs]."
Having fresh eggs was the draw for Erin Zelickson, too. But she also likes knowing where her food comes from — even more so after she decided to become a vegetarian.
"I've always had a super soft spot for animals anyway," she says. But after reading about the meat-packing industry, she stopped eating meat immediately. "I was like, OK, no more meat. No more buying eggs, because we don't know where they're coming from. I wanted to know that [the chickens] were happy."
Seven years later, Zelickson has a 15-month-old son, Rett, and in her Cotswold backyard, her flock has grown to nine hens. "He wants to get in their gaggle and walk with them," she says. "He loves throwing treats in there."
Caring for animals is a great way for older children to build a sense of responsibility, too. "I think if you asked the girls they would say they're more pets, so they like having them," Webster says. "It's part of a job too. They go and get the eggs. They do sometimes hang out with Dad while he's cleaning [the coop], but they're not really big enough to help."
Maya Myers, who has three children ages 15, 12, and 9, and a flock of six hens in Commonwealth Park, says her kids help out too. "The 12-year-old will go let them out of our coop," Myers says. "They check their food. They collect eggs and feed them and change their water."
---
Chicken Scratch Safety
Having a chicken coop in the backyard — especially with kids around — isn't without risk, however. According to a 2016 report, the Centers for Disease Control and Prevention has confirmed cases of salmonella in 48 states that have been linked to backyard poultry flocks. The CDC warns that all live poultry can carry salmonella bacteria, even if they look healthy and clean.
Salmonella can be more than just a pesky illness. Many strains produce serious symptoms including diarrhea, fever, and cramping that can last for days. But salmonella can cause children, the elderly, and anyone with a compromised immune system to get very sick, and in some instances, even die. For families considering adding chickens, it's important to heed the CDC's guidelines:
Always wash your hands thoroughly with soap and water right after touching live poultry or anything in the area where the birds live and roam.
Do not let poultry live inside the house.
Do not let children younger than age 5 touch live poultry without adult supervision.
"We're super diligent about having them wash their hands. It's a big deal for friends when they come over and they want to go get the eggs," Webster says. "Any time they handle an egg [they wash hands]. We have boots sitting outside so [the kids] don't wear their normal shoes in the coop. They sort of know the marching order. If you go get the eggs, you wash your hands. If you go in the coop, you put on the boots."
---
Getting Started
Zelickson, who helped design her coop, recommends visiting a few families with chickens before you commit to caring for a backyard flock.
"I would say, go visit someone who actually has them, and has had them, and see their setup," she says. "Ask what's working for them and what they would have done differently."
It's relatively easy to get started: You'll need a chicken coop, chicks or chickens, a water supply, a heat lamp (for chicks or cold weather), feed and hay. Chicks are inexpensive — typically less than $2 each — but chickens are social creatures, so it's best to start with at least three. Some chicks won't survive to adulthood, so many chicken-keepers suggest buying one or two more than your "ideal" number of chickens.
"Chickens are super cheap to have," Webster says. "You can get a 50-pound bag of the pellets [chicken feed] for $15, and it lasts for five months or so. It's definitely cost-effective if your family eats lots of eggs."
For a more formal introduction to caring for chickens, a store like Renfrow Hardware in Matthews is a great place to start. They sell chicks in the spring, welcome questions from newbies, and even have a handy guide to caring for backyard chickens available on their website. While it can be more labor intensive at the beginning to care for chicks (as opposed to buying young adult chickens that have already started laying), starting with chicks can be more rewarding. The chicks can "imprint" on you, and can get used to being handled, making them a bit tamer and more like pets.
None of these parents had chickens growing up, but for their families, their backyard flocks bring them joy, entertainment, and yes, an excellent source of protein. And it's an experience they have no plans to give up.
"I want everyone to have chickens," says Jennifer Jordan Shearon, who recently moved her six chickens (Elizabeth Taylor, Peaches, Shrimpy, Montel Jordan and Ludacris) from Plaza Midwood to her new home in Huntersville. "They are so awesome. Chickens are the new dog."
---
Pay Attention to Local Ordinances
Chickens are legal in Matthews, Charlotte and other nearby towns. But as with your dog or cat, there is a permit or license required, and obtaining one typically requires an inspection. The inspector may also want confirmation that your neighbors are aware of your chickens and are OK with your flock. Call 311 to schedule your inspection in Charlotte, or inquire with your local Animal Control office.​