Quick Tricks to Update Your Look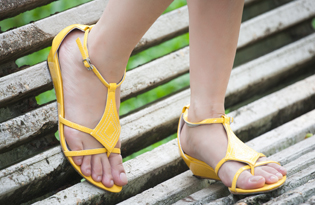 Ever feel like it's pointless to try and dress yourself because there's no time or you feel out of the fashion loop with your non-mom friends?  Well here are some quick tricks that will soon be a part of your routine.
1. Get your shower in at night when your baby goes to sleep.
2. If leggings and tunics are your new go to outfit, buy two in different colors and accessorize them with belts and jackets.
3. Use a tinted concealer and moisturizer with SPF to replenish skin, protect skin from the sun and conceal skin problems.
4. Wear dark colors with newborns to easily hide spit up and leaky breasts.
5. Buy Spanx and Shape Wear to cover up some of the extra baby weight but don't stop finding the time to exercise!
6. Don't be afraid to rock a heel. No not stilettos, the perfect "heel" for any mom is a wedge! Not a tall wedge, but just enough for mom to fell pretty and feminine.
7. When shopping, stay away from hard to care for fabrics like silk or hand wash only items.  You'll need clothes to be durable, non wrinkly, comfortable, stretchy and washable!
8. Jazz yourself up on the go with some fun accessories such as a scarf, pin, hat, belt or funky jewelry.  Have staple items you can wear with different clothes.
9. Get rid of those bags under your eyes by wearing a gel mask or holding frozen spoons and cold packs to the area for 10 minutes.
10. Treat your kid to a bubble bath when you need to get ready.  They'll get to play and get clean while you get to spend as much time as you need in the bathroom getting ready.
11. Don't forget to take care of yourself because your children learn by example! So drink lots of water, eat your vegetables, exercise, get sleep and protect yourself from the sun!