Quick & Easy Halloween Crafts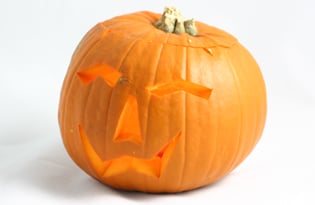 PUMPKIN CANDLEHOLDERS
Illuminate your dinner table with these festive candleholders.
YOU NEED:
•?? ?Miniature pumpkins
•?? ?Small spoon
•?? ?Taper candles
HOW TO:
1. Cut the top off of a small pumpkin. The hole should be no bigger than a quarter. (Leave this task to the parents!)
2. Remove the seeds from the pumpkin with a small spoon.
3. Place your candle into the hole, making sure that it fits snugly. Use black and orange candles for a festive Halloween touch.
4. Light candles and dinner is served!
DINNER GHOSTS
Who's coming to dinner?
YOU NEED:
•?? ?Butternut squashes
•?? ?White paint
•?? ?Black construction paper, felt or permanent marker
•?? ?Push pins or glue
HOW TO:
1. Cover butternut squashes with white paint.
2. Let dry completely.
3. Add mouth and eyes to your ghost with cut-out black construction paper, felt or a permanent marker.
4. Use pins or glue to attach paper or felt.
BOO PUMPKINS
Spell out BOO! on four festive pumpkins.
YOU NEED:
•?? ?4 small pumpkins
•?? ?Marker
•?? ?Carving tool
•?? ?Large spoon
•?? ?4 candles
HOW TO:
1. Draw the letters and exclamation point on the pumpkins with a marker.
2. Cut the tops off of your pumpkins with a sharp knife (Leave this task to the parents!)
3. Cut a small hole in each pumpkin top to allow heat to escape.
4. Remove pumpkin seeds and scrape the walls
5. Cut our your letters with a knife or caving tool
6. Insert tealights in each pumpkin, arrange and say BOO!
HALLOWEEN SLIME
Have an ooey-gooey Halloween with this green goo.
YOU NEED:
•?? ?Warm water
•?? ?1 cup Elmer's glue
•?? ?Green food coloring
•?? ?4 teaspoons borax
HOW TO:
1. Mix ¾ cup warm water, glue and several drops of green food coloring in bowl
2. In a separate bowl, mix 4 teaspoons borax and 1 1/3 cup warm water (Caution! Borax is toxic in large doses – keep this mixture away from young kiddies!)
3. Pour the glue mixture into the borax mixture. Do not stir.
4. Let sit for 1 minute to let the slime set.
5. Lift the firm slime out of the liquid.
6. Voila! Have a slimy good time!
GHOST POPS
Festive treats in the form of friendly ghosts!
YOU NEED:
•?? ?Coffee filters
•?? ?Lollipops
•?? ?Black ribbon or pipe cleaner
•?? ?Black marker
HOW TO:
1. Wrap a coffee filter around a lollipop and tie it with a black ribbon or pipe cleaner.
2. Draw spooky faces on your ghost heads with black marker.
3. Gather a whole clan of ghosts and give them away as treats! ?