Quick Candy Bar Brownies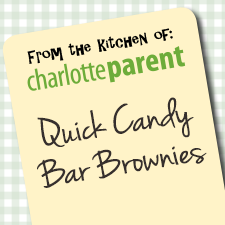 Ingredients:
1/3 cup plus 2 tablespoons water
1/3 cup vegetable oil
2 large eggs
2 tablespoons plus 2 teaspoons espresso powder (optional)
1 (19.8-ounce) your favorite box brownie mix
1 cup your favorite candy bar, broken into small pieces
1 teaspoon vanilla extract
1 1/2 cups powdered sugar
1 tablespoon unsalted butter, room temperature
Directions:

Line a 9-by-13-inch baking pan with parchment paper. Whisk 1/3 cup of water, oil, eggs, and 2 tablespoons espresso powder in a large bowl to blend. Add the brownie mix. Stir until well-blended. Stir in the broken candy pieces. Transfer the batter to the prepared baking pan. Bake in a preheated 350-degree oven until a toothpick inserted into the center of the brownies comes out with a few moist crumbs attached, about 35 minutes. Cool completely.
Meanwhile, dissolve the remaining 2 teaspoons of espresso powder in the remaining 2 tablespoons of water in a medium bowl. Whisk in the vanilla. Add the powdered sugar and butter and whisk until smooth. Pour the glaze over the brownies. Refrigerate until the glaze is set. Cut into bite-sized pieces and enjoy!
Heidi Billotto is a culinary expert who teaches cooking classes throughout Charlotte.