Q&A With Cirque du Soleil Performers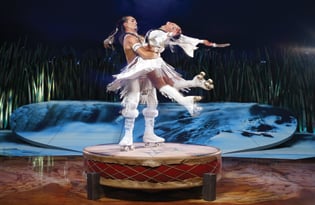 Cirque du Soleil brings its show Totem to Charlotte this month. The high-flying, artistic performance is an interpretation of the evolution of the human species. We caught up with two of the show's performers, Massimiliano Medini and Denise Gracia-Sorta, to learn more about what it's like to be a part of the world-traveling entourage.
Medini, 34, is from Italy, and Gracia-Sorta, 36 is from Spain. They are the roller-skating duo in Totem, but away from the show, they are parents to a 4-year-old daughter, Gipsy, who travels with the performance troupe. Below is a Q&A with the couple.
Q. How do you train for your performances and how many hours a day do you practice?
A. We do some fitness (gym), running plus two hours of practice each day based on our artistic schedule. It takes around 40 minutes to do our own make-up before the show, plus 40 minutes of warming-up. We have from eight to 10 shows a week, which keeps us fit and healthy.
Q. How old were you when you decided you wanted to be in a show like Cirque du Soleil?
A. We always wanted to be in show business. We each grew up in a circus family, and have been training and performing together since we were kids. We've worked in many circuses in Europe and variety shows, and joined Totem during the creation process in 2009. We are now touring with Cirque du Soleil with our daughter.
Q. What is it like to travel with the show across the world?
A. It's fabulous! Being part of Cirque du Soleil is one of our best experiences ever. We get to visit so many beautiful places and do what we enjoy the most – performing!
Q. What would you tell kids that want to be a performer someday?
A. Study, work hard, be professional, but more importantly, put your heart in what you do.
Q. How many countries have you visited?
A. Most of Europe, United States, Canada, Asia, and hopefully many more to come.
Q. What is the most exciting part of your job?
A. Going every day on stage to perform in front of thousands of people. For us, it's an exchange of energy by sending and receiving the emotions from the public. CP