Putting Heart in Your Family's Holidays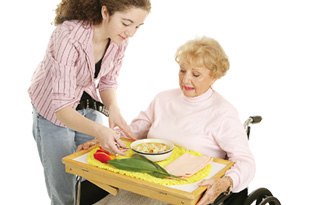 While the holidays may inspire thoughts of volunteering your family's time to help others, your ever-expanding to-do list may keep you from actually checking the newspaper for volunteer opportunities or picking up the phone. But don't wait until next year. Volunteering with the kids can be one of the most rewarding things you'll do this holiday season. And finding volunteer opportunities close to home is just a mouse click way.
When I visited the Web site for VolunteerMatch (www.volunteermatch.org), a national non-profit organization, I simply typed in my ZIP code, chose how far I was willing to travel, and found a whopping 427 volunteer opportunities – all within 10 miles of my front door. Volunteers in my home town can read stories to homeless children in a family housing shelter, raise funds for wildlife conservation, deliver hot meals to house-bound seniors, create encouraging cards for people with life-threatening illnesses (something even younger children can help with) and much more.
Easy Sign-Up
Interested? Just sign-up, via e-mail, on the spot. (Non-profit organizations who wish to list volunteer opportunities can simply go to the "post" section of the site to register.) VolunteerMatch offers a huge database of volunteer opportunities, with listings from approximately 74,000 national, regional and local organizations.
As a result, the site has amassed a matchmaking record that would make even Cupid a little envious: The service, which is free to both volunteers and organizations, was first launched in 1998. To date, more than 5,065,000 matches have been made between volunteers and non-profit organizations nationwide.
The site is a piece of cake to use. And because organizations can post their needs at a moment's notice, enthusiastic volunteers can be identified quickly – often the same day. No computer? No excuse. The nice folks at VolunteerMatch will be glad to help you find your perfect match. Call 415-241-6868. (Sorry, there's no toll-free number available.)
How Technology Can Help
According to VolunteerMatch president Deborah Dinkelacker, the organization started as a simple philanthropic idea to connect volunteers with charities. "Now the Web site is a viable tool for assisting anyone or anything – disaster victims, children in need, the hungry, endangered animals, the environment – that benefits from the services of volunteers," she says.
"Our goal is to make it easier for people to volunteer," Dinkelacker adds. Whether you and your family have an hour this afternoon or a full day every week to volunteer, "there's an organization that can benefit from your help."
Family Volunteering Ideas
Check out these family-friendly volunteer opportunities:
° Kids' Planet (www.kidsplanet.org) – Click on "Defend It" on the home page followed by "Fundraise It" to help raise money to help protect the environment.
°  Kids Next Door (www.hud.gov/kids/hthsplsh.html) – For volunteer activities to help the homeless.
° Kids Can Make a Difference (www.kidscanmakeadifference.org) – To help end poverty and hunger.
° Meals on Wheels (www.mowaa.org) – To help bring hot meals to seniors. (Children are welcome to accompany their parents in making deliveries and spreading cheer).
Choose Wisely
The following suggestions will help your family have a more successful volunteer experience:
°  Think about the causes or issues that are important to you. Your family might already be giving money to an organization that is important to you, and that might be a good place to begin your volunteer experience.
°  Consider the skills your family has to offer. Some positions require volunteers who have previous familiarity with certain equipment, for example. Are your kids old enough to take on the challenges of the volunteer position you're considering?
°  Combine your goals. Look for volunteer opportunities that will also help your family achieve your other goals. For example, if you want to stay fit, pick an active volunteer opportunity, such as cleaning a park. Or, for families with older kids, try volunteering at a food bank that teaches cooking skills.
° Don't over-commit. Make sure the volunteer hours you want to give fit into your hectic life, so that you don't frustrate your family, exhaust yourself or shortchange the organization you're trying to help.
Meaningful Holidays
Sign up now, and your family will quickly learn, in a positive way, how to keep the season's craziness in perspective. And your kids will have learned a great deal about the power – and the pleasure – of giving. There's no better way to teach a child that the gift of his time, and his heart, is one that will be most welcome – in any season.
Kathy Sena is a freelance journalist and the mother of a 14-year-old son. Visit her parenting blog at www.parenttalktoday.com.
Local Holiday Volunteer Opportunities
A Child's Place is a community organization that works in collaboration with Charlotte-Mecklenburg Schools to provide education and support services, and to advocate for children and their families who are homeless or at risk of being homeless. For information on volunteer needs and a complete holiday wish list, visit www.achildsplace.org or call (704) 343-3790.
Bethlehem Center of Charlotte is a community, faith-based non-profit organization, dedicated to renewing hope, strengthening family life and promoting self-sufficiency. Adopt a Child or family through Angel Tree and Holiday Sharing programs or donate coats and hats 3- and 4-year-olds this holiday season. Visit www.bethlehemcenter.org or call the main campus to find out more (704) 375-1417.
Crisis Assistance Ministry provides assistance and advocacy for people in financial crisis, helping them move toward self-sufficiency. Needs include blankets and bedspreads, sheets and towels, kitchen accessories, furniture and major appliances. Monetary donations are always welcome. For a more complete list or for volunteer information, call (704) 371-3000 or visit www.crisisassistance.org.
Hands On Charlotte is a nonprofit volunteer service organization promoting volunteerism and direct community service to meet Charlotte's most critical needs. Our mission is to strengthen our community and enrich lives by mobilizing a diverse corps of citizens in direct, volunteer service. Consider getting involved year-round and log on to handsoncharlotte.org to find an easy-to-use calendar with opportunities for family-friendly volunteering.
Loaves & Fishes provides groceries and support to people in crisis. Priority needs include canned fruit, 100 percent juice, pork and beans, peanut butter, canned meat and soup. Honor the special people on your holiday gift list by purchasing a holiday card designed by renowned North Carolina artist Harris Holt through Loaves & Fishes. For more information, visit www.loavesandfishes.org or call (704) 523-4333.
Thompson Child & Family Focus provides comprehensive residential treatment services for children ages 6 through 16, most of whom have emotional and behavioral disorders stemming from a history of abuse and neglect. There are many holiday giving opportunities with Thompson, including individual gifts and gift cards. For more information, call Rachel Eldridge at (704) 644-4403.
The Charlotte Urban Ministry Center is an interfaith organization dedicated to serving our homeless neighbors and helping end homelessness. This holiday you could supply and serve drinks at lunch, be a Santa's Helper and address holiday cards for loved ones with festive stamps or bring homemade holiday cookies or snacks or sing carols at lunch. Visit www.urbanministrycenter.org or call (704) 347-0278