Put On a Happy Face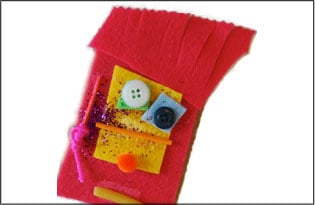 Let's face it, we live in a world where it has become natural to express emotions non-verbally. The online culture has created a phenomenon where emoticons, letters and symbols have replaced ordinary words like "happy" and "sad", and punctuation is becoming virtually extinct. Who needs a tired exclamation mark when you can insert a silly facial expression to more effectively communicate your point?
Statistics show that the daily number of web searches for emoticons is increasing at a staggering rate, causing us to wonder how kids are able to express themselves during the fifteen or twenty minutes a day when they are offline. To fill this gap and satisfy the ever-growing demand for a new kind of smiley, these expressive faces made out of cardboard and other recycled materials combine a perfect blend old school 3D creativity with high tech ingenuity! Kids can create as many clever faces as necessary to address a wide range of emotions, and hang them on their bedroom door or around their necks when they go to the grocery store, so there is never any doubt as to how they are feeling! LOL!
You Need:
• A small 4×6 piece of recycled cardboard
• White school glue
• Felt and fabric scraps
• Scissors
• Odds & ends to create the faces (such as bottle caps, buttons, yarn, jewels, sticks, twigs, string, noodles, paper clips, feathers, etc.).
• Glitter


How to Do It:
1. Cut a fabric or felt scrap down to the size of the cardboard, and glue it on the cardboard to form the background for the face.
2. To add character, cut a smaller piece of felt or fabric to place in the center of face.
3. Get busy glueing all the facial features on! You can use yarn or fabric/felt for hair, bottle caps and buttons for eyes, and virtually any type of do-dad for the ears, nose & mouth! Get creative and watch these funny faces come to life!
4. Don't forget to accessorize with ribbons or bows in the hair, a necklace, earrings, mustache, beard, etc. Sprinkle liberally with glitter as needed.
5. There are limitless ways to display these funny faces! Attach them to a piece of yarn or string, and hang them on your door or around our neck. Glue on a magnet on the back and display them in your locker! Or glue a pin on the back and wear them to accessorize your favorite outfit! 🙂
small hands big art is an art studio in South Charlotte that offers classes, camps, & parties for children & young adults.
8025 Ardrey Kell Rd.
Charlotte, NC 28277
704.246.8271
www.smallhandsbigart.com