Pumpkin Cider Soup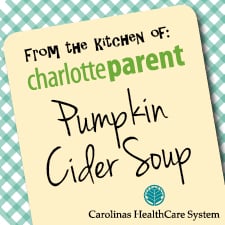 This hearty concoction of seasonal fruits and vegetables will fill the belly and warm the bones on a brisk day.
Makes 6 servings
Ingredients:
2 Tbsp. nonfat chicken broth
1 cup chopped onion
1 (15 oz.) can pumpkin
1 cup water
2 cups apple cider
¼ cup packed brown sugar
¼ tsp. cinnamon
1/8 tsp. nutmeg
1 large apple, peeled and chopped
¼ tsp. pepper
6 Tbsp. nonfat sour cream (optional)
Chopped chives for garnish (optional)
Directions:
1. Spray large pot or Dutch oven with cooking spray.
2. Add broth and heat over medium-high heat; add onion and cook until softened and transparent.
3. Add remaining ingredients except sour cream and chives, if using; cook over medium-high heat, stirring constantly and bring to a boil. Reduce heat to low, cover and simmer 1 hour, stirring occasionally.
4. Remove from heat and cool slightly. Blend soup in several batches in blender until smooth and creamy.
5. Return to soup pot and heat 5 to 6 minutes over medium heat. Serve with nonfat sour cream and chopped chives, if desired.
Nutritional information per serving: 129 calories, 2g protein, 24g carbohydrates, 0.4g fat, 0mg cholesterol, 2g fiber, 33mg sodium.
Note: Nutritional information may vary depending on ingredient brands used.