Priceless Lessons in Parenting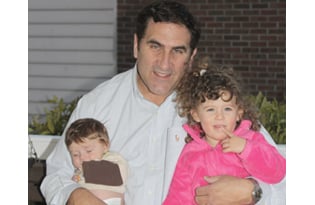 I'm an older parent, and you'd think I would have a wealth of knowledge on how to raise children. But, you'd think wrong. My kids are constantly surprising, stunning and, yes, shocking me.
Case in point: The other day, I was having a chat with my son, Brayden. Because his age is still measured in weeks, it was a rather one-sided conversation. As I was changing his diaper, I was telling him how many times the Boston Red Sox have broken my heart. He was laughing, and cooing and smiling. I thought, "Hey this dad thing is as easy as making a basket from 2 feet away."
Then all of a sudden, it happened. Brayden treated me like a member of the 1972 Philadelphia 76ers — a team that went just 9-73. Brayden, um … used me as a toilet. To misquote Shakespeare, "To pee or not to pee," that was the question.
I discovered the soggy answer. Any parent who has a son knows it's important to duck and dodge., but this was unknown to me, given my other child is a girl. I felt confused, kind of like a football player running the wrong way. The experience did bond us. It kept me and my son close — close enough to scrub clean all the affected spots.
I figured things would go much smoother with my 3-year-old daughter, Sage, when I spent an afternoon with her several weeks ago. I certainly didn't have to worry about unexpected cleanings. However, instead of ducking and dodging, she had me running and groaning.
I took Sage to her first college football game. Normally, I'm covering the games for my job, so I get a press box pass, which lets me park up front. However this was daddy-daughter day. No passes. Just a pair of tickets, and a parking spot in a garage a mile and a half away.
Leaving the car, Sage decided she did not want to walk. She wanted Daddy to put her on his shoulders. I'd dreamed of this moment for a long time. But in my dreams, I was NOT a mile and a half away from the entrance to the stadium. By the time we reached our seats, I was pooped and ready to sit and enjoy the game.
Well, we did get non-stop action, but all of it took place in our aisle. Sage flirted with the guy sitting in front of us, "borrowed" the iPad of the gentlemen next to us and grabbed the comb of the woman behind us. I realized it was best if we left.
Time driving to the game: 45 minutes.
Time spent at the game: 6 minutes.
Time getting to see my little girl smile : Priceless.
I guess I have much to learn about my kids.  Then again, they have a lot to learn about me.
Bruce Snyder is the sports director at Fox Charlotte. He lives in Charlotte with his wife, Charisse, daughter, Sage, and son, Brayden.