Preventing Stomach Bugs at School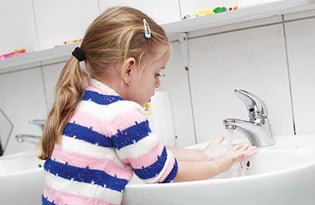 In the confined space of a classroom, gastrointestinal illnesses can spread quickly. And the biggest culprit is improper food handling, says Marilyn Lee, a public-health expert at Ryerson University School of Occupational and Public Health in Toronto, Canada.
Typically, gastrointestinal illnesses are short-lived and the symptoms — cramps, fever, vomiting and diarrhea — don't require medical treatment. But some children require hospitalization and even, in the case of E. coli contamination, can die from their condition.
Searching documented reports published between 1998 and 2008 to identify the cause of a gastrointestinal outbreak, as well as how the infection was transmitted, the number of children affected, mortality rates and prevention measures, Lee discovered slightly more than half involved bacterial infections or viral infections. The rest were caused by one or more parasites. In almost half of the cases, transmission was identified as being food-borne, followed by person-to-person, waterborne and via animal contact.
The researchers also found that the risk of food-borne illness was reduced when food handlers practiced effective hand washing and received food-safety training and certification. In addition, student-training programs on hand washing and enhanced cleaning and disinfection of schools were effective strategies.
"Everyone has a role to play," Lee says. "Many classrooms contain sinks, so teachers can model proper hand washing for their students. School administrators must ensure students always have access to warm water, soap and paper towels. Custodians must frequently check the cleanliness of bathrooms."